Welcome to FISH FOOD TIMES
---
Jul. 2016 issue No.151-2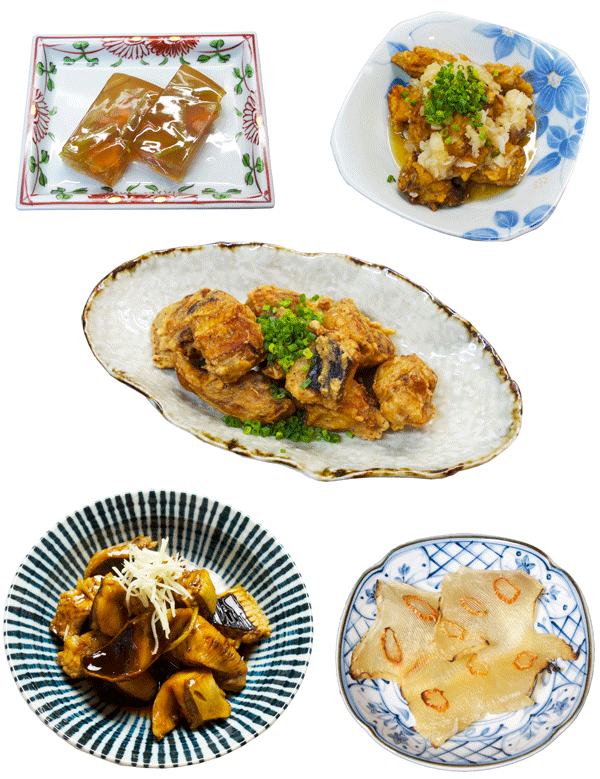 Stingray cuisine
---
Stingray is not only sashimi and sushi, which was noted in the previous page, also heated cooking is a lot of possible.
Looking at the stingray from nutritional, calories is 168kcal in fillets of 200g, a 100g conversion is 84kcal. There is also a lot 38.2g especially protruding protein. Lipid is very small and 0.6g, in the vitamins and minerals, and has a relatively high component of vitamin B12 and vitamin D, have been published in a survey.
In fact this protein is large, in vertebrates, dermis, ligament, tendon, bone, cartilage, one of collagen proteins that comprise the like, indicates that larger the stingray. The following, also want to introduce cuisine that utilize this.
First of all it is boiled and seasoned.
Method of cookiing stingray boiled and seasoned
1,Cut at regular intervals of 3 cm width.
7,When you have finished Yushimo, cool and put into ice water.
2,Cut and even up the width in the same way.
8,Put in a sieve to draining water.
3,Cut and even up the fillets of different lengths in cubes.
9,Boil the fewer amount of cooking liquid.
4,All is about the same size.
10,When the cooking liquid is boiling, put the fillets.
5,Since the stingray is relatively low, when selling the fillets are plenty of to large serving.
11,Firepower to high heat, covered with aluminum foil When the cooking liquid is boiling, wait for as it is cooking liquid is spewing out of.
6,Put it in boiling water to Yushimo.
12、When heated for about 10 minutes, finished.
Boiled and seasoned of stingray
---
The following is Tatsuta fried.
Method of cooking stingray Tatsuta fried
1,To draining a fillet of stingray.
7,Adapt to more than one hour dipping sauce.
2,Transfer the fillets in the pan, sprinkle with black pepper.
8,Mix the flour and potato starch in half and half.
3,Rub the ginger and garlic about teaspoon one half.
9,Sprinkle the fillets that adapt the dipping sauce flour and potato starch.
4,Add tablespoon two cups of sake.
10,Mix the flour and potato starch
5,The soy sauce two tablespoons added, put the beaten egg half, make a dipping sauce.
11,Fry about two minutes at 170 ℃ of oil.
6,Put the juice soaked in fillets.
12,Turn off the oil with a bat.
Tatsuta fried completion of stingray.
Ponzu sauce of grated radish of Tatsuta fried
---
Then, focusing on nikogori as extra chapter. Stingray as well, fish without scales, such as monkfish and puffer fish, generally collagen is in plenty, can cook and nikogori.
Blowfish is not a by-product of boiled and seasoned, it is enough to enter as one of the fine cuisine in the course cuisine. However, since have never heard so much of that I was purposely made a nikogori with stingrays, decided to try to make to try this time.
How to make stingray nikogori

1,The boiled and seasoned of stingray, cool and it is this nikogori. This is a tasty byproduct.
4,Remove the ingredients in, filter out the cooking liquid.
2,Nikogori rather than a by-product, in order to enjoy as cooking, to boiled and seasoned collecting portions of poor appearance stingray.
5,Stew lightly butterbur along with the cooking liquid, thin slices of carrot later added, taking the crude heat, cool in the refrigerator.
3,Simmer over low heat about 30 minutes.
6,Cut taken out from the container.
Boiled Kogori is the completion of the stingray
---
Thus, generally using the unfamiliar stingrays, I tried such a dish.
The size of the stingray is about 4.5kg, purchase price was 1,000 yen per fish. Of course, because this was a special ask to the familiar fishmonger's that will good to me, the price also be in some situation that was a special thing of no profit, stingray is not attention to anyone anywhere since it is a fish, unlikely also to be a very high price.
For this time of this article, I want to eat stingrays cuisine somewhere in the store, he tried to find with all the various hands around the net, but the shop that put it a sign in the vicinity of the Hakata was none.
Maybe now in Japan, if you try to eat a stingray cuisine always reliably at any time, probably not the only way of following.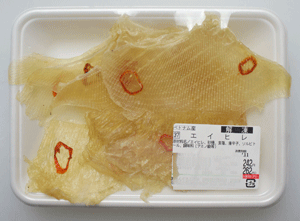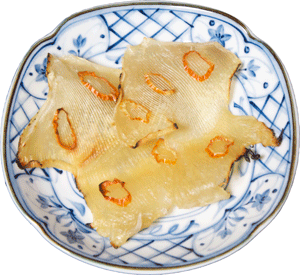 In dried fish products stingray fin that had been stocked in the store of salt drought department that purchased the stingray, it was the Vietnam of 94g262 yen at 5 pieces in one pack.
But this is when I eat grilled lightly as shown in the right image of the above, the round slices of hot pepper taste is he very good, but adhering to the surface was very intense spiciness. After eating this, it was a state that does not enter anything and tingling for a while in the mouth.
So, if now is eat, remove the pepper with a finger, but eased the spicy itself, then the dealing with pepper finger seems to have hit unconsciously to their face, now tingling for a while is the face that was touched with a finger It has been. Spiciness of this pepper was really very intense level.
To imagine, this spicy aim of the product is not in Japan, probably it seemed that it is the specification of the Korean market.
At the end of October last year, when the author visited the Busan of South Korea, had been sun-dried on the side of the road stay the hotel is an image of the bottom. This is a dried fish of the stingray, it had been dried also doing normal way without any discomfort in the front of the store.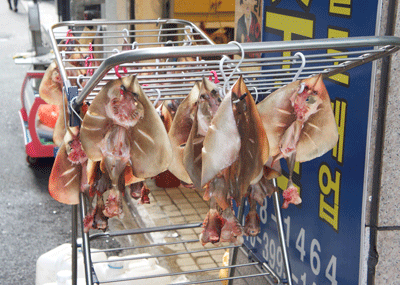 For Korean people, rays cuisine is called Hon'o cuisine, hongeohoe (sashimi), Hon'ochimu (braised), Hon'ojon (tempura), Hon'otan (pot), Hon'oneku' (lever and malt of soup), etc., in various forms it seems to be eaten.
In this way, to the South Korea have eaten well rays, yet because have all the two conditions that pepper favorite Korea, fin of this stingray was thought that the Korean market specifications have been sold in Japan.
---
Well, trying to end soon also this month's issue.
Now In Japan, a stingray that is not at all attracted attention as a food fish, in South Korea is the presence of about a variety of cuisine of the rays is established as a specialty store.
It was found to try to eat a stingray cuisine, stingray looks but it is a little grotesque, it is that by no means unpalatable fish.
In Japan today, but fat lot of farmed fish has been touted, stingrays are together to the liver fat is almost no on the contrary, those who meat equipped with a feature that the collagen plenty of protein, stingray it is like a fish out a little from the trend of the times.
But to say that because it is likely, how about not to even look is.
Since the stingray's the fish that are purchased at a relatively affordable price, how about is to try and suggestions of how to eat to customers once ....
---
---
An opinion and the communication are to iinfo@fish food times

Date of updating Jun.1, 2016