---

Welcome to FISH FOOD TIMES
---
Mar. 2022 issue No.219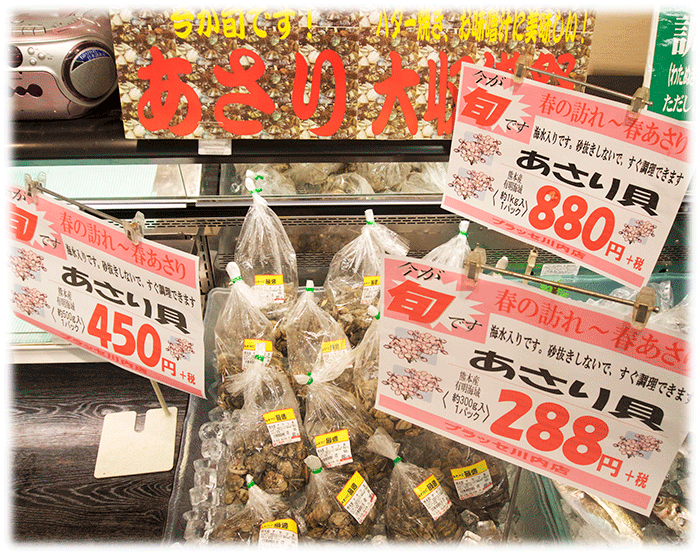 Japanese littleneck clam in seawater bag
---
Japanese littleneck clam disguised as a production area
On January 30th (Sun), a special feature on TBS was broadcast on the theme of "Imported japanese littleneck clam became domestically produced. What is the actual situation of disguised production area?" In February, the japanese littleneck clam has almost stopped selling at the fish counter. This effect will be felt by those involved in selling marine products. In particular, it turned out that more than 90% of the japanese littleneck clams from Kumamoto prefecture, which had a large share of about 80% in the fish departments of supermarkets nationwide, were made in China. Sales of japanese littleneck clam stopped suddenly.
If such a sharp decline in sales of japanese littleneck clam continues in March, sales in the fisheries sector will be hurt. Sales of japanese littleneck clam peak around March and April of the year, and sales of japanese littleneck clam are already downhill in May, which is the commonly known Clam digging season. Therefore, if we do not sell japanese littleneck clam firmly in March and April, the sales of the fishery sector may drop significantly from the previous year.
The reason why the sales of japanese littleneck clam increase in March and April is that japanese littleneck clam stores nutrients to lay eggs from early summer to summer, and it becomes the most delicious season when you get fat and full of body. This is because it can appeal and increase sales. In addition, not only japanese littleneck clam but also shellfish in general will be in season in spring, and spring will be the time when the sales composition ratio of shellfish will increase as "season of shellfish". In particular, common orient clams will have unusually high sales only this March. Bivalve common orient clam shells never match other shells. Therefore, at the Hinamatsuri, there is a custom that a girl is served as one of the foods related to the Hinamatsuri with the wish of being happy with a man for the rest of her life.
However, since the catch of domestically produced common orient clam has decreased and it has become a rare value, the cheaper japanese littleneck clam for the same bivalve has come to be sold as an alternative. Therefore, on the day of the Hinamatsuri, japanese littleneck clam also had outstanding sales during the year. For this reason, the author has described the day of the Hinamatsuri as "the day of launching fireworks to inform that the sales season of japanese littleneck clam has arrived".
However, as one of the people involved in the sale of marine products, I was very worried about what happened to the sales of japanese littleneck clam in March and April of this year due to such a big uproar.
---
Factors that reduce the catch of japanese littleneck clam
Considering the background of this incident, various problems emerge. After all, the first problem is that the Japanese littleneck clam is no longer caught year by year in Japan, and it is announced with the following graphs and numbers.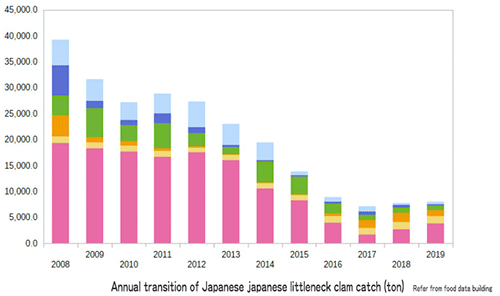 And, in the form of compensating for the decrease in the catch of Japanese littleneck clam in Japan, japanese littleneck clam from China and South Korea have been stably imported as shown in the table below.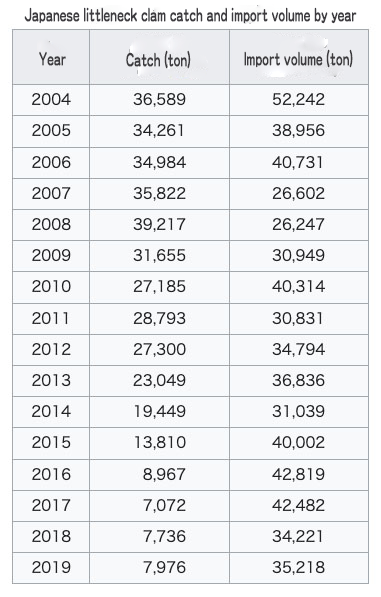 The annual catch of japanese littleneck clam was about 100,000 tons nationwide in the 1960s, but it decreased from 140,000 tons in the 1980s to 50,000 tons in 1994. And since 2004, the situation in the above table.
The causes of poor catch of japanese littleneck clam are overfishing, reclaiming of habitat, environmental deterioration due to eutrophication and water pollution, and feeding damage caused by predation from Null eagle ray and Neverita didyma. Various factors such as a decrease in fertility due to Perkinsus protozoan caused by imported Japanese littleneck clam juveniles are mentioned. However, with the current situation where domestic japanese littleneck clam is caught less than 10,000 tons per year, it is clear that Japan's demand for Japanese littleneck clam cannot be met.
For this reason, I hear that in areas suitable for the habitat of japanese littleneck clam, which has a shallow and sandy sea, efforts are being made to revive the production of japanese littleneck clam by releasing juveniles hatched from eggs. But that should take tackle seriously and a considerable number of years, and it doesn't seem like it will be resolved in the next few years.
---
Impressions of the japanese littleneck clam fishing site that I visited before
The author has visited three unique companies that cultivate and manufacture Japanese littleneck clams located in Asa, Yamaguchi Prefecture, Yatsushiro, Kumamoto Prefecture, and Buzen, Fukuoka Prefecture. The company's factory on the coast facing the sea has a number of pool-sized aquariums, in which Japanese littleneck clams dug up from the sea are waiting for their turn while being desanded. I was shown the scene. Then, in the Ariake Sea in Kumamoto, I was allowed to board a small boat and observe the landing work using a tool called Joren.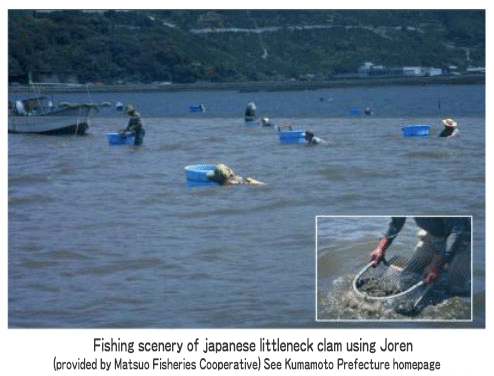 The above image refers to the homepage of Kumamoto Prefecture, but what I saw is a similar scene. The work of digging up the japanese littleneck clam using this Jolen is a difficult physical work that is performed using the entire body such as the legs, waist and arms from the shallow seabed, and it also requires a lot of workers. When I visited such a scene, I felt that I had to pay a reasonable price for such hardships when purchasing and selling japanese littleneck clam.
The japanese littleneck clam caught in this digging work is originally a good fishing ground suitable for growing japanese littleneck clam, but there are few natural products, and most of them are imported from China, South Korea, etc. Thing. And they are said to be left in the sea for a certain period of time. Since japanese littleneck clam is a filter feeder, japanese littleneck clam swallows a large amount of water, 10 L per day, and ingests plankton as food. So the japanese littleneck clam doesn't need to feed like the japanese amberjack or red seabream, it just leaves it in the sea.
Since the japanese littleneck clam has a strong habitability and does not move, it stays in the sea area where it was put in, so there seems to be no fear of escaping to other sea areas without enclosing it with a net or the like. However, stakes were erected to mark the time when the japanese littleneck clam was released, so that it could be distinguished.If the japanese littleneck clam imported from China is released into the sea and then raised for a longer period than the period in which it was born and raised, the japanese littleneck clam can be named domestically according to the "long rule" based on the Food Labeling Law. However, japanese littleneck clam, which takes about 2 years to reach the proper shipping size of about 3 cm, imports only juveniles "1.5 cm or less, within 1 year of birth" as a calculation guide, and releases them to the sea. There seems to be a problem there.If we purchase japanese littleneck clam from China that has grown to an appropriate size of around 3 cm, it is not realistically possible to ship it after leaving it in the sea for more than two years. If the principle theory is scrutinized, only "1.5 cm or less, juvenile clams born within one year" should be able to be imported. However, most of the imported Japanese littleneck clams are not juveniles, but most of them are edible.
---
japanese littleneck clam sales style
From such a situation, until now, when the Japanese littleneck clam trader said "this is domestic", it was domestic. So the retail stage of buying and selling had no way to ask him if this wasn't the case. However, on the other hand, it seems that there are some points that should be reflected even at the retail stage.
For example, if the highest priority is to purchase japanese littleneck clam at a low price and sell it at a low price, the only thing that is waiting for you is the destination, which is made in China, not domestic. As of February 18, this year (Friday), according to the Osaka fish market market price information, the market price of domestic japanese littleneck clam shipped from Aichi, Shizuoka, Mie is oversized 1,800 yen to 1,600 yen / kg, large 1,200 yen to 1,000 Yen / kg, medium 900 yen / kg, and oversized 1,800 yen / kg from Hokkaido. It is estimated that this price is higher than the selling price of Chinese japanese littleneck clam, which was sold in stores under the name of Kumamoto until January before the incident.
Some retailers may wonder if such a high domestic Japanese littleneck clam can be sold. However, if the supply of domestic japanese littleneck clam is clearly tight but there is demand, the market price will usually be relatively high. With the elimination of cheap disguised japanese littleneck clams, the demand for domestic japanese littleneck clams will increase more and more, and we must be prepared for the market price of domestic japanese littleneck clams to rise even higher.
When that happens, you won't be able to sell it in the rough way shown in the image below. Even if the japanese littleneck clam is taken out of the seawater and left on the ground, it can survive by closing the shell tightly and taking a nap and minimizing breathing in the shell. So the japanese littleneck clam doesn't die easily. Taking advantage of this strength of vitality was the usual selling method in the old days when japanese littleneck clam could still be sold at a low price. It is a rough selling method that sells just by putting it in a tray and packing it as shown in the image below.
By the way, I would like to mention the strange behavior that I have repeatedly recognized in the workshop behind the fish counter. It is the action of poking the packed japanese littleneck clam film in several places with the tip of a ballpoint pen to make holes. Most of them were done by a part-time woman from her boss, but I've often asked her what the work meant and stopped her. Japanese littleneck clam is an underwater creature, so it doesn't breathe in the air. Nonetheless, they open their mouths after a considerable amount of time has passed since they purchased the japanese littleneck clams and started selling them. And it is completely meaningless to try to survive the japanese littleneck clam in this way. Perhaps somewhere in the country the same thing is still happening (no way, your store is ...), and if that's the case, please get a scientific perspective.
The following products can be regarded as this evolved version, improved version, or simple factory-produced products.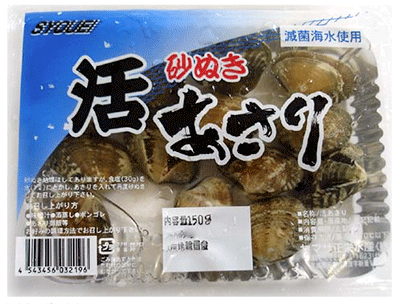 This is a japanese littleneck clam product containing seawater produced by a conveyor belt method by a manufacturer of the japanese littleneck clam product. At the store stage, all you have to do is attach a price sticker and line up at the fish counter, so it's not much different from dry or daily products, and it's an easy product that anyone can handle. However, the purchase price of this product is relatively high because the manufacturing cost is added at the manufacturer stage, and the selling price is very high when converted to 100g. There is no doubt that commercializing the current domestic japanese littleneck clam in this way will be far from the popular price level.
---
How to sell the time-consuming japanese littleneck clam
So, let me introduce the sales method of japanese littleneck clam that I recommend, which seems to be valuable now that such an incident has occurred. This is the method that the company I am still instructing as a consultant is currently implementing. In the past, the author switched the sales method of japanese littleneck clam to this, and while keeping the selling price unchanged as before, it is a method that boasts an amazing track record of increasing the sales of japanese littleneck clam by more than 300% year-on-year rate.
If you express that the sales of japanese littleneck clam are 300% compared to the previous year, it seems that you will complain that you should not say exaggerated things, but this is definitely recorded at a chain store that has double-digit store development. It is a fact. There are many people who know that fact, so I have no choice but to ask them to confirm it or to believe the author's description.
It is "sale of japanese littleneck clam in a bag with seawater", which is a different method from the japanese littleneck clam pack with seawater introduced above. The Japanese littleneck clam pack containing seawater is made with a line that is similar to manufacturing tofu packs at a factory. This is not only very expensive due to the added manufacturing cost, but also because the expiration date display is set, price reduction loss and disposal loss are likely to occur, and it is one of the fishery products that is difficult to make a profit.
However, the author's recommendation for "in-store homemade seawater bag-filled japanese littleneck clam" is to continue selling japanese littleneck clam alive. Even so, it is inevitable that there will be a small amount of price reduction loss and disposal loss. However, despite the fact that the markup ratio is not high like the "japanese littleneck clam pack with seawater", price cuts and disposal occur frequently, which is a sales method that does not cause any loss to the extent that profits are blown away.
The following is the commercialization method.
How to commercialize japanese littleneck clam in seawater bag

1,Ask a business partner of the fish market to prepare the required number of seawater in a 20L water tank.

10,Put 1kg of japanese littleneck clam in the largest bag.
2,Purchase japanese littleneck clam in a net of 5 to 10 kg.
11,From the left, I put 1kg, 500g, and 300g of japanese littleneck clam.
3,After lightly washing the japanese littleneck clam with running tap water while it is still in the net, put it in a container with no holes.
12,Put seawater in a bag containing japanese littleneck clam.
4,Fill the container containing japanese littleneck clam with seawater in the tank.
13,A state with seawater. It seems that the japanese littleneck clam can live longer if it is possible to add more seawater.
5,While scooping the japanese littleneck clam in the seawater by hand, find the clam with a broken shell, and if there is one, discard it at this stage.

14,Twist the top of the bag containing japanese littleneck clam.

6,Such cracked shells may be mixed.
15,Tighten the twisted part with a pack sealer.
7,Prepare three sizes of hard crystal packs: large, medium, and small.
16,Japanese littleneck clam with seawater that is tightly knotted to prevent seawater from leaking from the bag.
8,Put 300g of japanese littleneck clam in a small bag.
17,Japanese littleneck clam with seawater containing 300g, 500g and 1kg from the left.
9,Put 500g of japanese littleneck clam in medium size。
18,An example of a sales floor for japanese littleneck clam products containing seawater.
---
Let's spend time on domestic japanese littleneck clam products and sell them out without loss
The sales floor in the above image is an image several years before the incident occurred, and this selling price seems to be completely unhelpful now. However, as a domestic Japanese littleneck clam sales method at the current market price, this is considered to be an appropriate sales method.
One thing to keep in mind when making a sales floor like the one in the image above is to always cool the seawater with ice or cold wind and leave it in a slightly harsh environment for the japanese littleneck clam. This is because when the japanese littleneck clam is placed in an optimal environment for habitat, it activates, sticks out its legs, blows the tide and becomes healthy, consumes oxygen in seawater, and as a result, it cannot live long and dies prematurely. When the japanese littleneck clam opens its shell, sticks out, and begins to blow the tide, it must be considered that the japanese littleneck clam is a red signal on the verge of death.
When the super fishery department purchases domestic japanese littleneck clam, if the cost is 1,800 yen / kg, it seems that we would like to have a selling price of at least 258 yen / 100g to 280 yen / 100g. If you cook miso soup, steamed sake, spaghetti vongole, bouillabaisse, etc. using japanese littleneck clam, 300g or 500g is not enough for two people, and it is not uncommon to use about 1kg if the number of dishes increases. If this happens, the selling price of the domestic japanese littleneck clam is 780 yen for 300g, 500g for 980 yen, and 1kg for 1,880 yen, which may lead to a world of a different dimension than before.
Think about whether it is appropriate to put products with such a selling price in trays as before and sell them in a rough product form that is just packed.
Live shellfish containing japanese littleneck clam are valuable only when they are alive. Therefore, it is important to sell out by using a method to survive even a little, and the expiration date of live mussels is "whether or not they are alive". With the japanese littleneck clam in a seawater bag at this in-store, the japanese littleneck clam rarely dies and there is almost no waste loss. The specific method is to put the japanese littleneck clam in a container with new seawater and store it in the refrigerator while injecting air with an air pump for ornamental fish if it is unsold on the day of selling the japanese littleneck clam. Then japanese littleneck clam regains energy overnight.
As a prerequisite, salt water of refined salt is absolutely useless, and it must be seawater pumped from the sea where plankton is mixed. And, as mentioned above, it is better to cool the seawater a little than the seawater with the proper temperature that is too activated, such as the japanese littleneck clam sticking out and spitting the tide. There, it is better to have the japanese littleneck clam close the shell tightly and put it in for a longer life.
The fish counter is not limited to japanese littleneck clam, but the ability to sell live shellfish such as abalone, turban shells, ark shells, resus keenae, scallops, and oysters can be evaluated as a high-level fish counter. In that sense, this March / April will be divided in the evaluation of customers' fish counters. Also, if the domestic japanese littleneck clam, which has become very expensive, will continue to be purchased, I think it may be judged that the fish section there is evaluated as such.
I hope that your shop will receive such an evaluation.
---
---
An opinion and the communication are to iinfo@fish food times

Date of updating 1 Mar. 2022