---

Welcome to FISH FOOD TIMES
---
Nov. 2022 issue No.227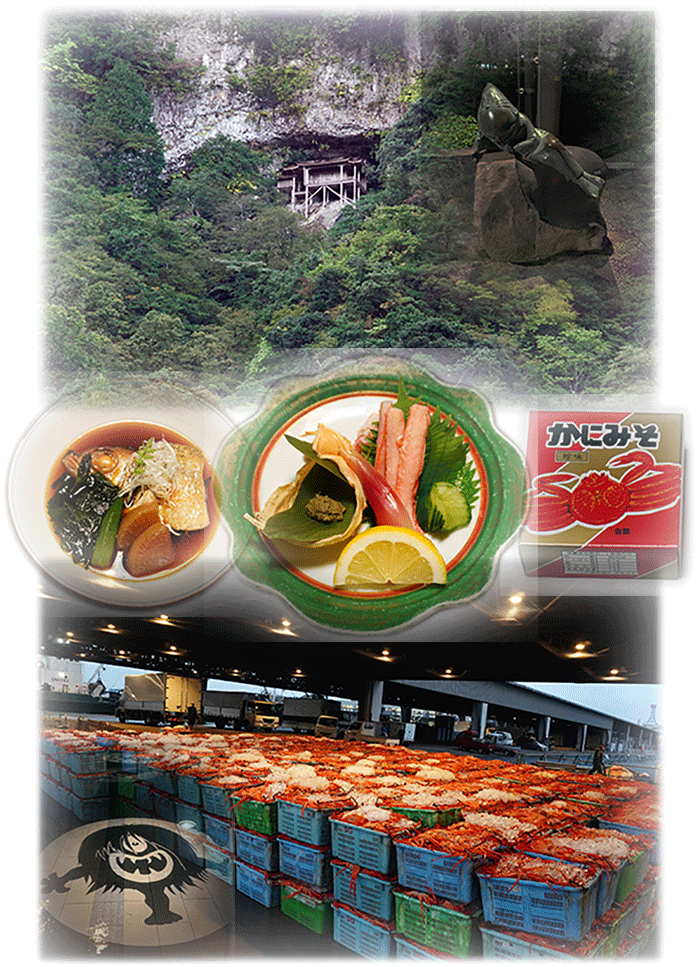 Red snow crab and Sakaiminato
---
To Sakaiminato, which boasts one of the highest catches in Japan
I decided to suspend the overseas fish situation this year as well. No need to explain why. This time, I chose to visit the Sakaiminato Fish Market, which boasts 93,829 tons of seafood catches in 2021, which ranks 6th in Japan, as the main destination. In addition to researching the environment, I decided to travel to unvisited tourist spots in both prefectures myself.
Dear FISH FOOD TIMES readers, you can probably imagine what the November issue will be about. You should be prepared for this year to be like a tourist travelogue as usual. (However, there are some readers who say, "I'm always looking forward to only November issue." But it's welcome.
This time, just like last year, my wife refused to accompany me on the trip, so I acted alone like last year. This time, her wife told me about it at a relatively early stage, so it was clear that I would be traveling alone. That's why I decided to highlight the difference from the past November issue by using an unprecedented "coverage" method.
On October 17th (Monday), I left Fukuoka Airport on a JAL flight departing at 7:15 and arrived at Izumo Airport a little later than my scheduled arrival time of 8:25. On this day, I only had a clear plan to confirm the location of the Sakaiminato Fish Market, and I was able to move around freely from morning to night. So, for the time being, I decided to visit Matsue Castle and the Adachi Museum of Art on the route to Sakaiminato City.
Matsue Castle
My first stop was Matsue Castle, which took four years to build in 1611 and is located in the northern part of Matsue City, Shimane Prefecture. The Horikawa river that surrounds the castle is a brackish water area with thin salt water because it is connected to Lake Shinji, which is famous for clams. This Matsue Castle was in trouble because the stone wall collapsed when building the castle tower, so a beautiful girl was used as a scapegoat. In addition, although the castle was built after that, there are many fishy legends, such as the story that Komuso was used as a human pillar for the reinforcement work of the collapsing castle tower. Since then, there have been legends of ghosts within the castle, and although it was abandoned for a long period of time due to its curse, it is a national treasure that still retains its original appearance 600 years later.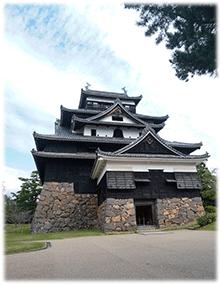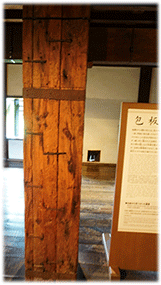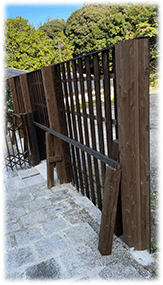 What I found interesting about Matsue Castle was the tsutsumiita in the image above. The pillars that support the castle were wrapped with boards from all sides and reinforced with kasugai, and it seems that the purpose was not only to reinforce the structure, but also to hide cracks and scratches to improve the appearance.
Just recently, at the end of August, the building next to the company was demolished and the lot became a vacant lot. For this reason, the author had just rebuilt the wooden fence, which had deteriorated and was partially rotten for the first time in about 20 years, as shown in the image on the far right above. Eight pillars with a height of 2m were installed on the board fence at intervals of 2m. The pillars are a combination of three layers with a thickness of 225 mm on each side, with a 45 mm thick plate interposed between two 90 mm squares. Part of it was reinforced using kasugai. This was an idea to create a pillar that could withstand strong winds such as typhoons.
Looking at this tsutsumiita at Matsue Castle, the writer, who has a hobby of DIY, thought, " I see... there are ways to take care of the wood of buildings for many years.''
Foods Market Hok
After 11:20, we left Matsue Castle and headed to the Adachi Museum of Art. And there was a store called Foods Market Hok on the way, so I stopped by.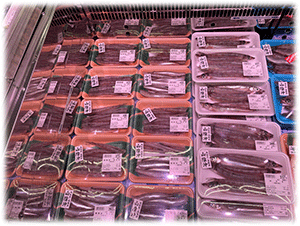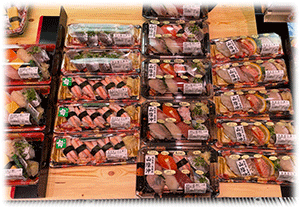 The first thing that caught my eye at the store was the deep sea smelt with the local name "oki kisu" in the upper left image. Uncooked round fish was 118 yen/100g, and cooked fish was 198 yen/100g, both of which were sold at a bargain price of about 50 yen per fish. I have handled bigeyed greeneye, which is very similar to deep sea smelt, but I had no experience handling deep sea smelt and was an unknown fish. I thought that I would like to take up deep sea smelt in FISH FOOD TIMES sooner or later.
I looked at the deep sea smelt and it looked fresh, but there was no indication that it was for sashimi. I thought that if it could be made into sashimi and sushi like horse mackerel and sardines, it would be highly profitable. And when I looked into the flat open case by the wall, I saw fish shop sushi on display. Among them, there is "Nigiri sushi with in local fish", and since it has a sticker saying "Tottori prefecture/Shimane prefecture Sanin offing", I expected deep sea smelt to be included.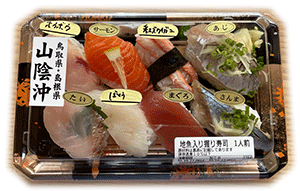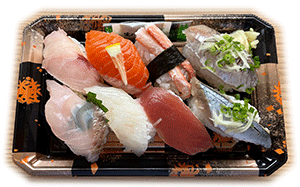 But unfortunately deep sea smelt was not included. In this "nigiri sushi with local fish", there was clearly something that could be thawed trout salmon and thawed saury that was not local. I thought he must be having a hard time choosing which fish to put inside. If I were you, I would buy fresh deep sea smelt and probably put it in this. It was already past 12:00 pm, so I bought this product and brought it to the eat-in corner to eat, and then headed to the Adachi Museum of Art.
Adachi Museum of Art
The Adachi Museum of Art is located in Yasugi City, Shimane Prefecture, but it was not located in the center of the city, but in the suburbs surrounded by fields and adjacent to the mountains. As I entered the museum, I wondered why the museum was built in such a rural area. And the answer to that question came later, like it was falling from the heavens.
The image above is a panorama of the Japanese garden of the Adachi Museum of Art, which has been rated the best in Japan for 19 consecutive years by an American magazine specializing in Japanese gardens. It would be presumptuous for the author to comment on this garden, so I would like to avoid it. Although it is not shown in this image, there is a large waterfall in the back right, and I was impressed with the balance with the waterfall. Later, I realized this while driving outside the museum. Surprisingly, the waterfall was located on a mountain outside the museum.
In other words, the waterfall was not in the garden, but was a "borrowed landscape" on the mountain that existed outside the walls of the Adachi Museum of Art. It made me realize that the Japanese garden at the Adachi Museum of Art was created with even the appearance of a waterfall falling from the top of the mountain outside the garden taken into consideration as a borrowed landscape. And in my own way, I solved the question that this facility was not located in the center of the city, but in the suburbs surrounded by fields and adjacent to the mountains.
In fact, the author also created and completed a garden a year and a half ago on the site of the company's office, with a borrowed landscape in mind, as shown in the image below.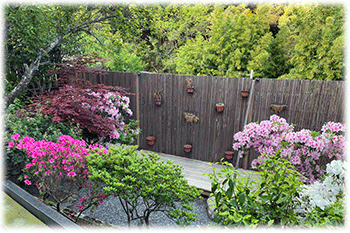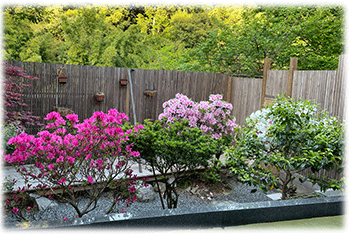 Until a year and a half ago, the 2m-high vertical grid fence in the image above did not exist, and now there was a 1.2m-high wooden fence hidden behind it. A 15m long and 5m high wooden deck that had been completed by myself in 2009 was partially rotten. And since I had less work to do due to the corona crisis, I started a full-scale renovation of the wooden deck in March of the year before last in order to solve the problem. In the process, I came up with the idea of creating an open-air bath next to the wooden deck, and completed the open-air bath and wooden deck renovation by myself in March last year, taking about a year to complete.
This 2m vertical lattice board fence was completed in the final stages, but there is actually an unsightly warehouse covered with faded and cheap corrugated tin plates. The warehouse ruined the view, so a new 2m-high wooden fence with vertical lattices helps hide it. In this way, the trees on the other side of the stream that runs between us and Myoken Shrine have come to serve as a new borrowed scenery in the garden.
Sakaiminato night
Now, let's go back to the original topic and describe the itinerary after leaving the Adachi Museum of Art. We stayed at the Adachi Museum of Art until around 3:00 pm, then headed straight to Sakaiminato, arriving at the Sakaiminato Fish Market at around 4:30 pm to confirm the location and take a preliminary inspection. I confirmed the position of the parking lot in the fish market and entered the hotel I had reserved at 17:00. I think everyone who reads FISH FOOD TIMIS remembers that last year's "Kinki/Nanki Edition" was around the height of the corona virus, and it was the worst time to eat out, and there was nowhere to eat dinner, the writer at that time was really pathetic. Since I had such an experience, I left the hotel at 5:30 pm to find a delicious restaurant so that I would not be thrown into a similar tragedy this time.
However, when such words come, I think that some of the readers, who are expecting something strange, are already grinning and imagining. Actually, it turned out as expected.
I headed for Mizuki Shigeru Road, which is just a short walk from the hotel, but there are no such shops in the shopping district. So, I went around the back from the main street and went to a place where bars were concentrated, but there was nothing there. Time passed quickly, the sun went down and it got dark, and the shutters of the shops began to come down one after another. Then, when I asked a woman who was closing the shutters at a store if there was a good store, she told me that there was a store owned by my husband.When I visited the restaurant, which was relieved by those words, I was refused, saying that it was fully booked. I was disappointed by this, but next time there was a fish shop that was open late, and I asked the man at the shop if there was an izakaya that served delicious food. Then he told me that that store might be good. When I visited the place, I found a sign saying it was closed on Mondays. Oh···
When I was dejected and wandering around wondering if it would be like this again, I found a yakitori restaurant with a red lantern. Although it wasn't my intention at all, I thought that if I said extravagance at this time, I would be forced into the worst situation of going to a convenience store. So, I went into the restaurant and finished my dinner with appetizers of assorted sashimi that I didn't expect to be in Sakaiminato, a fish-producing area.
After a disappointing dinner at Sakaiminato that night, I walked back to the hotel on Mizuki Shigeru Road with a feeling of lack of accomplishment. And there was a spectacle like the image below, which was perfect for the night of this day. I decided that this was a reward to compensate for my feelings of incomplete combustion that night, and walked home while enjoying these tricks.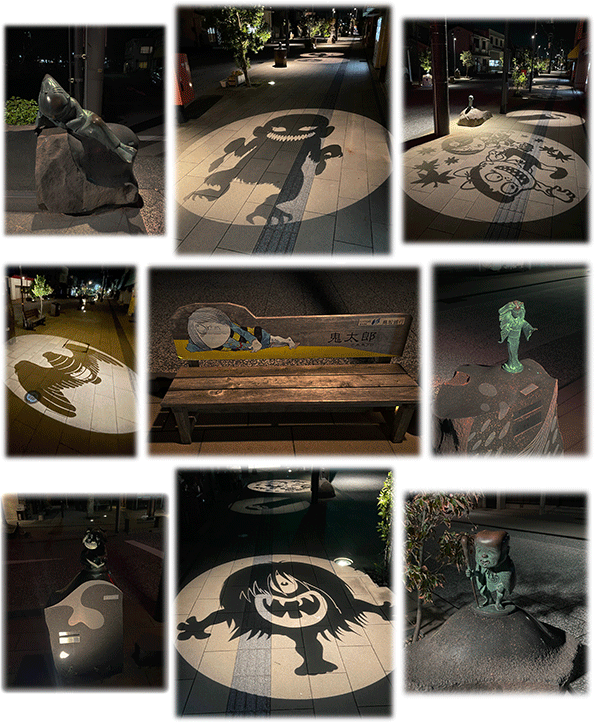 ---
Sakaiminato Fish Market
The second morning was rainy with strong crosswinds. I decided that the fish market would not be protected from the rain and wind, so I headed for the fish market with the water proof coat I had brought with me. I arrived before 5:00 and was waiting for Yuta Uehara, an engineer at the Sakaiminato Fisheries Office in Tottori Prefecture, whom I had contacted in advance. At exactly five o'clock, I was greeted by a thin, tall, good-looking man, and that person was Engineer Uehara.
After exchanging business cards, I received a brief explanation at the office, and he immediately guided me to the auction area. I am grateful to Mr. Uehara, who guided me around for three long hours from 5:00 to 8:00 in the morning. (Mr. Uehara, I would like to take this opportunity to thank you. Thank you very much.)
The Tottori Prefectural Sakaiminato Seafood Regional Wholesale Market has a quay length of about 2.6 km and an area of 145,000 square meters (about 44,000 tsubo). There are three consignees, which is different from the general two-company system. The outline is as follows.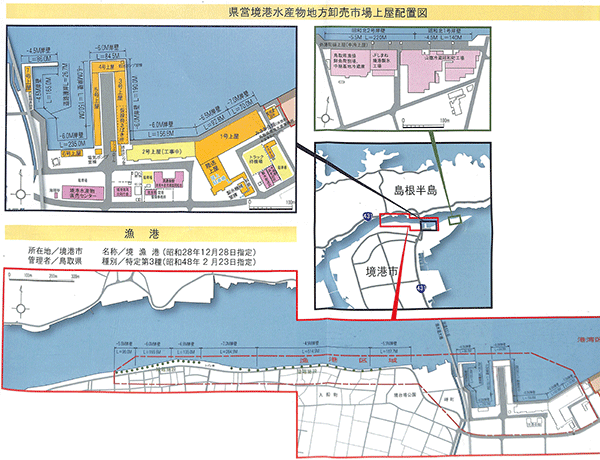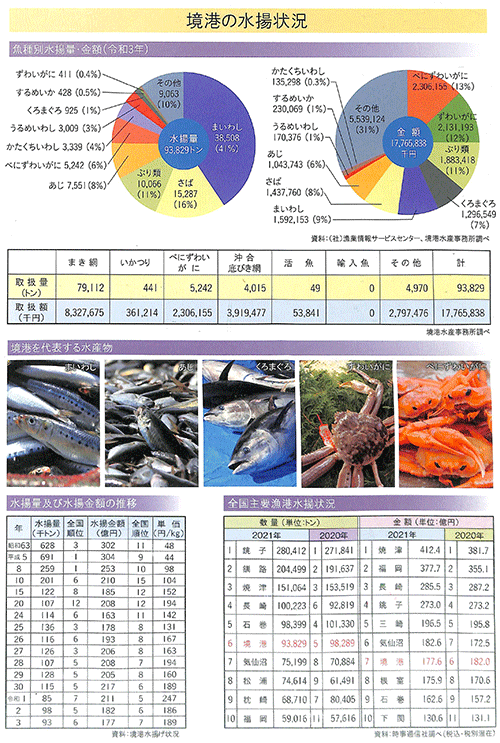 What stands out in this figure is that the red snow crab is the biggest feature of the Sakaiminato fish market. After that, I think that the second most conspicuous feature is wild bluefin tuna fishing by purse seine boats, which can be said to be a seasonal tradition in the fishery industry in July.
The ban on red snow crab fishing, which is the biggest feature, had just been lifted in September. Before the auction of coastal fish and land-transported fish began at 5:30, I was guided by Mr. Uehara to see how red snow crabs were being landed.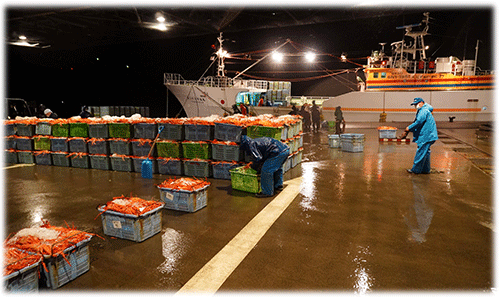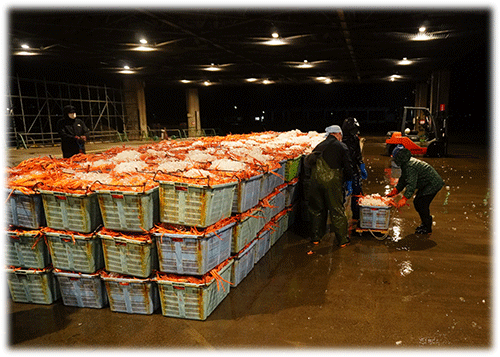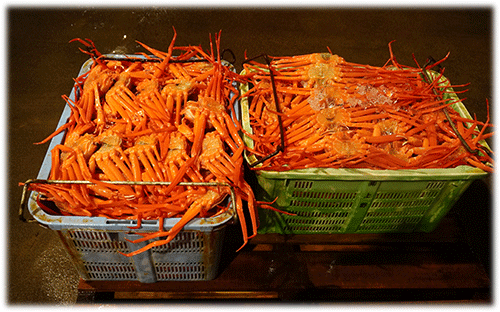 Red snow crabs were being landed in the pouring rain. Containers weighing more than 30 kg were unloaded from fishing boats, transported to designated locations on carts with rollers, and two people stacked them in three layers. It was hard physical labor, and it was a job that the person doing this job would surely have a bad back. When I said to Mr. Uehara, "It looks like it would be better to prepare a robot suit for physical work," he replied, "Yes, that's right."
Looking at this situation, another thing that caught my attention was the red snow crab at the bottom of the three-tiered containers. There must be at least 100 kg of weight on it, and I wondered if the crab's original form could be preserved, so I asked Mr. Uehara about this. According to Mr. Uehara, when people from outside observe this situation, they always ask the same question. The answer was that most red snow crabs are not meant for raw consumption, but for processing, so there is no problem even if they lose their shape a little. And the extra large ones were treated politely as shown in the 3rd image above, and they were supposed to be sold as perishables.
The image below shows red snow crabs piled up before the 7:00 bidding.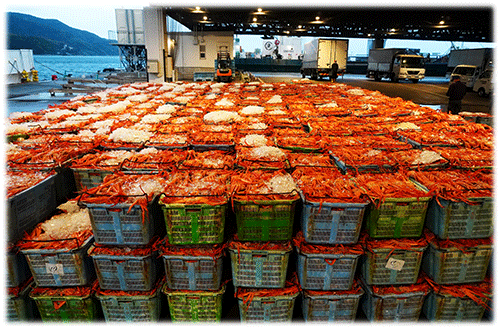 These were already size-sorted and their contents are displayed below, totaling 650 cases.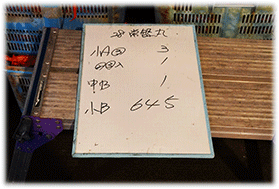 And then, the sorted, best-of-breed products were lined up like this next to a large pile of products.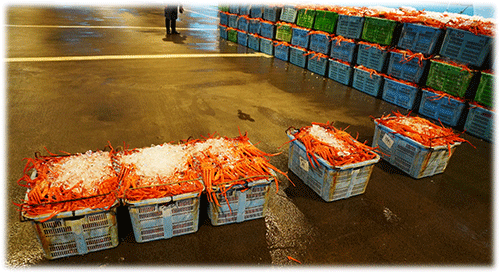 A simple calculation shows that the red snow crab landing volume is 30 kg x 650 cases = 19,500 kg (19.5 tons). Among them, red snow crab, which is treated specially, weighs 150 kg, so its proportion is less than 1%, 0.7%. I wanted to know what the price of these things was, but I had no idea.
The red snow crab is not auctioned, but the price is decided by the bidding that started at 7 o'clock, but I was surprised by the way the bidding was done.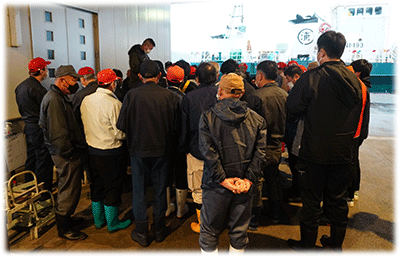 The image above shows the announcement of the bid, and the bidder standing on the raised floor in the center muttered in a low voice the result of the bid. The broker who placed the bid sits around the bidder, listens to the voice of the bidder, looks down, listens intently, and takes notes. I couldn't understand 100% what he was saying, but when the bidder's mumbling ended, the brokers almost simultaneously raised their heads and flew away. In that way, I was impressed to see that the broker could hear the auctioneer's small mutterings. I wonder if there are other markets where such a surprising fish bidding scene exists, but I don't know of any other examples.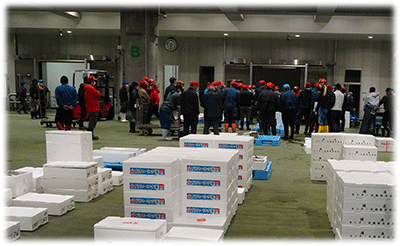 The image above is the scene of the auction that started at 5:30, but this is a scene where the familiar bidders all over the country shout loudly to decide the price and the successful bidder. At the Sakaiminato Fish Market, which is a cleanly managed new building, a variety of fish were actively auctioned in a modern, highly hygienic closed auction area.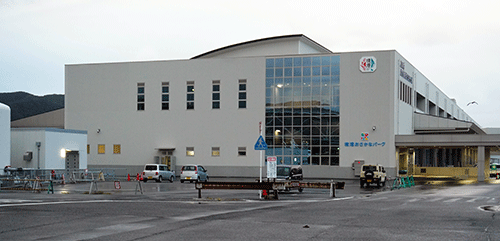 One of the things that left an impression on me during this trip was the interview with Director Rumi Terada, the head of the management company that manages this modern and vast Sakaiminato fish market. I heard from Uehara engineer that she was setting up an interview with the director at 8:30, and a beautiful woman showed up just at 8:30, so I thought she had definitely brought me tea. However, I was surprised when she introduced herself as "I am the director."It may be rude to say it like this, but in the environment of the fish market, where the smell of men is pungent, the person who is also the president of the fish market is a "beautiful woman of young age." I don't think I'm the only one who is surprised by the unexpectedness. Moreover, since he was an employee of Tottori Prefecture, I thought that he was a generalist of a senior civil servant. However, her career was a fishery engineer graduated from Tokyo University of Fisheries, and she was a fish specialist, so it was all the more surprising.
I had an interview with Director Terada for about an hour. The outline of Director Terada's talk is that although a huge amount of 21.8 billion yen has been invested in the Sakaiminato Fish Market renovation plan, there are still plans to make the red snow crab landing site a closed shed, etc. was not finished. In addition, the fishery industry is the most important field in Tottori Prefecture. She said he wanted to make it a friendly and popular fish market. As part of that direction, in No. 2 shed, which was just completed in September, a passageway was set up for the general public to freely observe, and cooking training rooms and fish learning rooms as shown in the image below are enriched. Also, in April of this year, the adjacent Sakaiminato Seafood Direct Sales Center was reopened after renovation.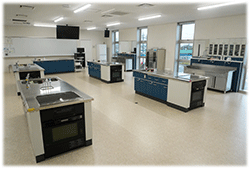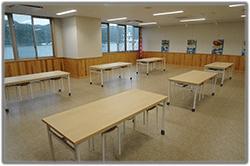 The Sakaiminato Seafood Direct Sales Center is closed on Tuesdays, so unfortunately I was not able to confirm the situation on this day. However, I was able to feel from various points the direction of wanting to make it a "friendly and popular fish market" as Director Terada said.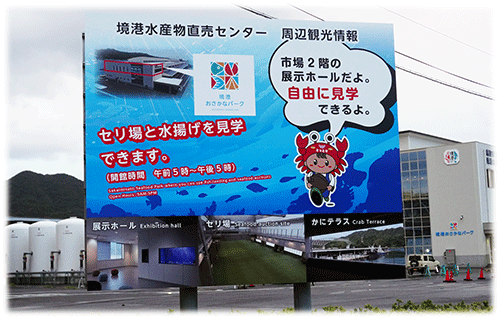 In the first place, the author wanted to visit the Sakaiminato Fish Market this time because in recent years the function and presence of the fish market has been diminishing. I wanted to find out how the Sakaiminato Fish Market, one of the largest regional wholesale markets in Japan, was trying to survive.
The table below is a scan of the Minato Newspaper article on Thursday, September 15th.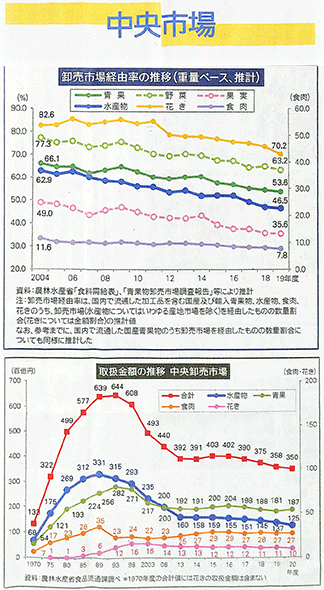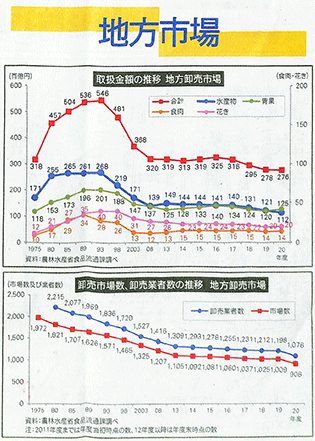 As shown in this graph, it is clear from the figures that both the central wholesale market and the local wholesale market have been declining for a long time. With a sense of crisis about this, he decided that one of the improvement measures for the future would be to transform the Sakaiminato Fish Market into a "friendly and popular fish market."
Marine products shipped from the Sakaiminato Fish Market are a key industry that supports Sakaiminato City. For example, it is estimated that less than 1% of red snow crab, which is one of the most distinctive features of the crab, is sold fresh, and most of it is used for processing. Sakaiminato has a system in place to transport red snow crab, which loses its freshness very quickly, to a processing factory as soon as it is landed. As soon as the bidding results were announced, the 650 cases of red snow crab landed that day were immediately loaded onto a waiting truck, and the mountain of red snow crab in the image disappeared in about 20 minutes.
There are many factories and related industries in Sakaiminato City that bring in red snow crabs with such skillful speed, and these are one of the industries that support the backbone of Sakaiminato City and Tottori Prefecture. Some of the numerous and various processed products produced from the red snow crab are the following products.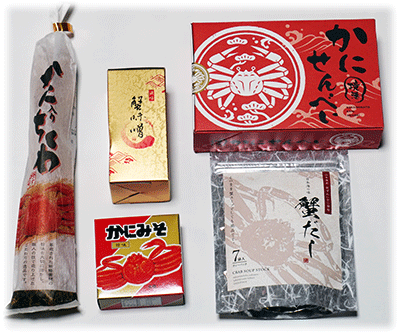 The processed red snow crab in the image above was purchased by the author as a souvenir. And the image below is a ryokan in Kaike Onsen in Yonago City, which is located next to Sakaiminato City, where I stayed on the night of the 20th. It is one of the dishes served at Kaichoen's dinner.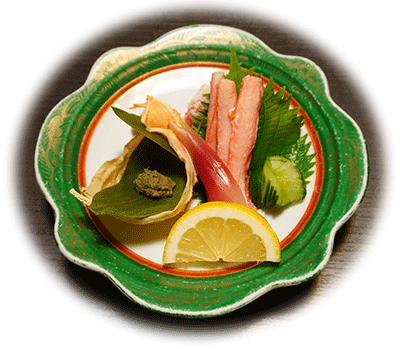 In other words, red snow crab is not only a processed food, but also a powerful means of appealing to local attractions, such as accommodation services such as local hot spring inns, and even the restaurant industry. And that is a big force in attracting people to Sakaiminato City and Kaike Onsen. Red snow crabs are not only sold as processed foods and ryokan cuisine, but of course they are also sold as fresh products in their original form.
After finishing the interview with Director Terada at around 9:30 that day, we left the Sakaiminato Fish Market, crossed a large bridge, crossed from Tottori Prefecture to the Shimane Peninsula, and toured the Mihonoseki Lighthouse at the tip of the island. And when I returned to Sakaiminato again, it was about 12 o'clock, so when I was looking for a place to have lunch, I found the facility in the image below, so I went in.
There is a facility named Tairyo Market Nakaura, For the time being, I went to the cafeteria to fill up my stomach and ate the Kanitro bowl (1,000 yen) pictured below.
And when I went to the next sales floor from the dining room, it was clear that it was a facility for tourists. In addition to the rows of processed red snow crab foods introduced earlier, red snow crab is also sold whole, as shown in the image below.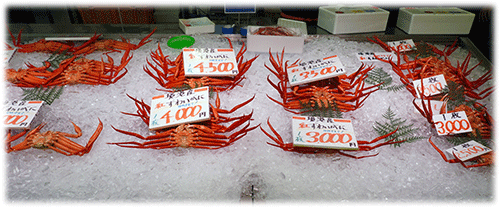 I was surprised by the high price of red snow crab, but I thought it would be like this when dealing with tourists. I'll also show you another image for comparison.

Another shop just around the corner had red snow crabs for such a low price. Red snow crabs, which are about the same size as those sold at Tairyo Market Nakaura for 3,000 to 4,000 yen each, were priced at 1,280 yen each here.

This store was the PLANT-5 Sakaiminato store operated by a company called Plant, headquartered in Fukui Prefecture. It's a huge Americanized supercenter, and I had no idea how big it was, but when I looked it up online, it seemed to be a 5,000-tsubo-class store.
The selling price of red snow crab is such a big difference between the selling price for tourists and the discount price for local customers. Regarding the price of fish, in an interview with Director Terada, She questioned me about the selling price at the retail stage, knowing that I am a consultant specializing in fish retail. Director Terada's question is that the price of fish goes up and down, so when you can get fish cheaply at the retail site, I would like you to sell it at a lower price accordingly. But in reality, she often feels that she is not so, and she wants to know why.
The author did his best to explain the price setting structure at the fish market and the reality of the fish retail site. Specifically, the average gross profit margin for fish departments in supermarkets is less than 30%. However, in general, the break-even point is usually over 30%, so about 85% of the fish departments in supermarkets nationwide are considered to be in the red. One of the reasons for this is that the fish department requires more manpower than the mechanized meat department. The reason for this is that compared to the three types of beef, pork, and chicken in the meat department, the fish department handles far more varieties, and it is complicated to handle dozens of different types of fish. What's more, the sales composition ratio of the fish market is steadily falling compared to the past due to the westernization of food, and the industry average is only about 8%, and sales have been overtaken by the side dishes department. I explained that the price of fish purchased by supermarkets is manipulated not only by intermediate wholesalers but also by the buyer system, and the size of the middle margin makes it impossible to reduce the retail price of fish.
When I talked about this, Director Terada gave me a serious look without objection and told me that I learned a lot. I came to think that a person who has a career as a fish specialist, graduated from Tokyo University of Fisheries, and who is a woman who is at the top of a large organization has such an attitude.
After that, I headed to the Yasushi Inoue Memorial Museum and Asian Museum as part of my travel schedule, and took my time to leisurely observe the museum, ending the second day's itinerary. Actually, I booked the same hotel in Sakaiminato on the second day, so I didn't move far. The reason for this was that I did not know what would happen to the fish market landing depending on the weather, and if there was no red snow crab landing, I was thinking that the next day would be an alternative day to ensure the coverage. As a result, the second night was the same as the first day. I went to a different restaurant than the day before, but it turned out to be a pitiful dinner that I can't imagine being in Sakaiminato, a fish-producing area, so I'd like to pass on that part.
At "Natural Hot Spring Yunagi no Yu Oyado Nono Sakaiminato Hotel"where I stayed for two days, I was only able to have breakfast on the second day due to time constraints. It was a familiar buffet style at any hotel, and the food was prepared like Sakaiminato, which was quite good. This hotel had a buffet style for dinner, so I decided not to have dinner here, but I reflected that it might have been good here on the second night.
---
Nageiredo
By the second day, the main theme of this time is over, and after that, it is a process to investigate the fish eating environment in Tottori and Shimane while sightseeing. This time, on the night of the third day, I made a reservation at Misasa Onsen, which is located in the mountains, and on the fourth day, I booked a ryokan at Kaike Onsen, which is located on the beach. And I was planning to enjoy authentic fish dishes there.
The reason I booked Misasa Onsen was because I wanted to visit Mitokusan Sanbutsuji Nageiredo, which is located nearby. However, as I learned in the morning of this day, it turned out that only two people or more can enter the mountain to reach the Nageiredo Hall of Sanbutsuji Temple on Mt. Mitoku. This is because the road to Nageiredo, which is intended for training by Tendai sect practitioners, is too steep and dangerous, so general tourists are prohibited from entering the mountain alone.
I regretted this situation because my preliminary research was insufficient. However, I can't give up on seeing Nageiredo here. So I decided to go see Nageiredo at Fudoin Iwayado in Wakasa-cho, Yazu-gun, which is about 140km away from Sakaiminato and takes about two and a half hours to reach my destination.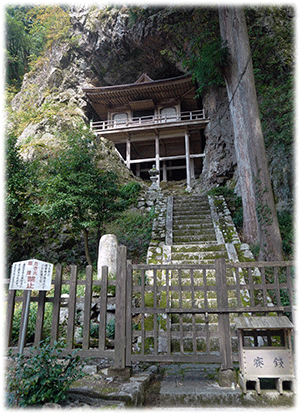 Fudoin Iwayado was built about 1,200 years ago, and its principal image, Fudo Myoo, is an important cultural property carved by Kobo Daishi when he was 33 years old. The origin of the name Nageiredo is said to be that En no Gyoja used Buddhist powers to make the temple small enough to fit in the palm of his hand, and then threw it into the rocky cave on the cliff with a loud shout. However, this is probably because it is so interesting that even if you were to ask how it was made, you would not be able to answer, so I think it was later explained that way.
You can go up close to this Nageiredo and take pictures. Actually, on the morning of the 4th day, after leaving the inn at Misasa Onsen, I couldn't give up thinking about Mitokusan Sanbutsuji Nageiredo. I managed to get close, and just wanted to know what it was like. So I headed to Mitokusan Sanbutsuji, which is about 10 minutes from the inn. And I was right. I was able to see Mitokusan Sanbutsuji Nageiredo Hall from afar. From the observatory on the edge of the river, I was able to see the Nageiredo Hall on the cliff above the mountain. And although I always carry it with me on relatively long trips, the large and heavy AF 80-200mm F2.8 HS-APO lens, which was rarely used every time, finally took advantage of the rare opportunity to demonstrate its power.
I would like readers to see the following four images so that readers can feel the greatness of Mitokusan Sanbutsuji Nageiredo, which is aiming to be registered as a World Heritage Site. If you go from the upper left image to the right and look at the lower image, you can understand what kind of position it is.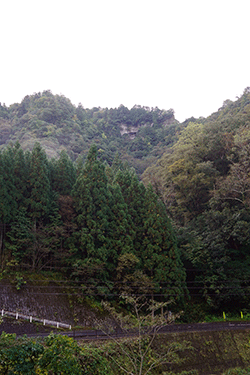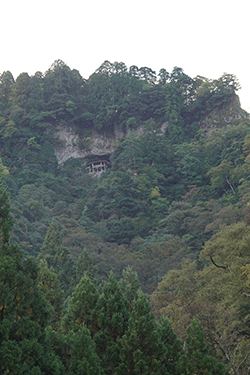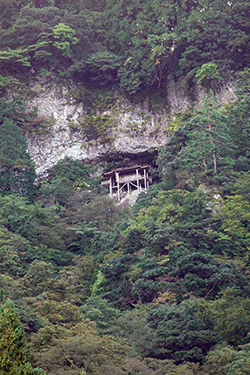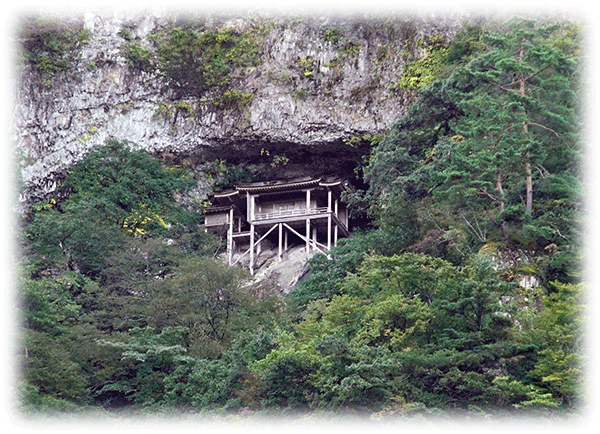 Although I wasn't able to get close to this place, I was able to get rid of my frustration by taking a picture like this.
By the way, I took a picture of the information board of the temple, so I would like you to understand roughly what kind of position this Nageiredo will be in Mitokusan Sanbutsuji.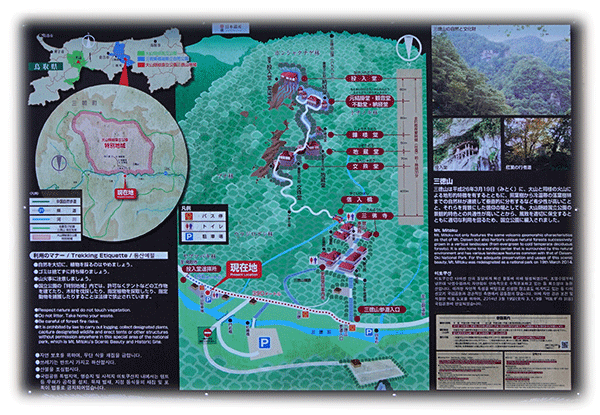 The writer was only able to go as far as Sanbutsuji Temple. It seems that it takes about an hour and a half to get to Nageiredo from there. Unfortunately, I wasn't able to go there, but I was able to enjoy the beautiful sound of the suikinkutsu in the image below at Sanbutsuji Temple. When you scoop the water from the kakehi in the image below into the ladle and pour it over the Buddha in the lower left, after a short pause, a cool sound that is really hard to describe will resound and make you feel comfortable.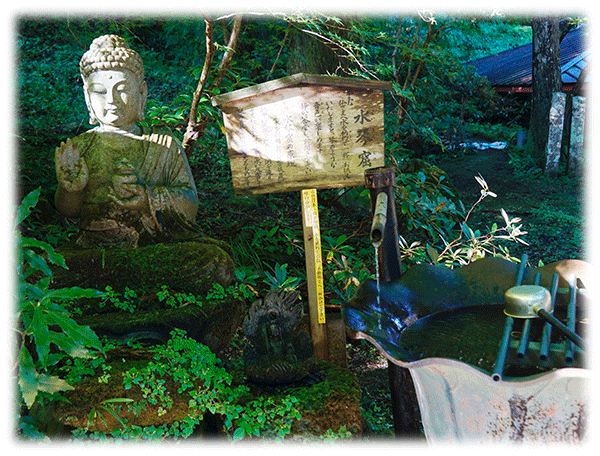 Even if this suikinkutsu is very impossible for me, I want to make at least shishiodoshi, but I'm procrastinating. Instead, I built a bamboo kakehi in a koi pond to drop the water, and cut corners at an easy level. In the vicinity of this suikinkutsu, I was satisfied with various explanations given by a cheerful and cheerful priest, and left Mitokusan Sanbutsuji.
---
In-room dining at a hot spring inn
By the way, the night of the third day is a hot spring inn, so there is no need to find a dinner destination like the hotel until the second day. The inn is Misasa Onsen's Izanro Iwasaki, a ryokan that has been loved by the imperial family as well as writers and artists such as Toson Shimazaki and Akiko Yosano. That's why I had high hopes for the food and chose the "private room meal plan with salt-grilled Nodoguro". Hot spring ryokan are basically premised on two or more people, so it is not easy to find a plan for one person. Even if it was possible to eat alone, it would be lonely to eat alone in a large venue with many people around, so when I searched for a place where I could eat in my room, I arrived at Izanro Iwasaki.
After slowly enjoying the wonderful large rock bath of a long-established inn, I was excitedly waiting for the dinner I was looking forward to being brought to my room. And the following dishes were brought in.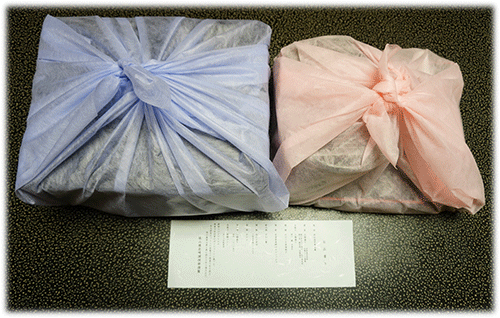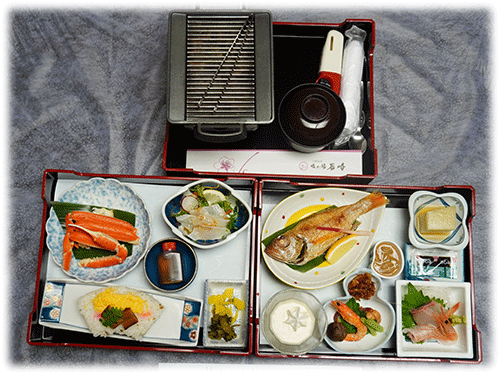 A room attendant brought this jyubako set and left it with almost no explanation. What is this low level of service, I thought. There was a proviso written on the menu, and it was the familiar phrase, "Due to the new coronavirus, the customer service will be kept to a minimum."
You have to put hot water in the soup bowl yourself, and the snow crab doesn't even have pre-cooked cuts. Not only that, but the blackthroat seaperch salt-grilled was cold, but it seemed to be a mechanism to put it on the iron plate and re-grill it. I don't think it's a good idea to ask the customer to reheat the blackthroat seaperch salt grill, but if the room attendant omits that explanation, the customer will be in trouble. What I felt was that the sales of such a prestigious ryokan also dropped sharply due to the coronavirus, and as a result of reducing the number of employees, the burden was placed on a small number of people. And I thought it was because she was trying to finish her work in a short time anyway.
Breakfast was a similar service cut method, but the rice was warm and delicious. For that reason, I probably piled up the rice in Ohitsu(rice bowl), which was supposed to be enough for two people, and ate all three cups. Perhaps the room attendant who cleaned up afterward must have thought, "The old man who is over 70 eats a lot in the morning...".
At this time, I would like to make a comparison with Kaike Onsen Kaichoen on the night of the fourth day. Even in Kaike Onsen, I had a hard time finding a ryokan where I could eat alone in my room. I couldn't find a room that fulfilled my wishes on the internet, so I finally decided to call the Kaike Onsen Ryokan Association. When I told the person in charge that I could pay up to 30,000 yen per night, She introduced me to a ryokan called Kaichoen, which offered 30,000 yen.
Kaichoen is the oldest ryokan in Kaike Onsen and has the oldest rock bath in Kaike Onsen built in the Taisho era. It is a prestigious onsen ryokan with a relatively small two-story capacity of 50 people, and the previous president was close to writers such as Akiyuki Nosaka and Makio Abe, and naturally it has been used by many people related to such people.
It was the fourth day of our trip to Tottori-Shimane, the night of our final accommodation, and the accommodation fee was the most expensive on this trip. The day before was disappointing, so I had high hopes for tonight. And that wish finally came true. The image below is a dish of Kaichoen.
Kaichoen cuisine
Red snow crab
Blackthroat seaperch boiled
Warm sushi with eel and red snow crab
Fried puffer fish
Monkfish liver
Conger pike shabu shabu
Wild vegetable small bowl
Turban shell boiled down in soy
Dobin Steamed with Matsutake Mushrooms

Sashimi (botan shrimp, red clam, scallop, white squid, amberjack, Spanish mackerel searing, red sea bream)
Besides this, the last meal was chazuke with tuna zuke, but I forgot to take a picture. In addition, I contacted Kaichoen in advance by e-mail, requesting that I do not need meat dishes for dinner, so I would like fish dishes as much as possible. The head chef responded to this, and the Tottori Wagyu beef that was listed in the menu was not served in the dish, and instead, there was a dobinmushi with a large matsutake mushroom that was not listed in the menu. Each and every one of these dishes had a sophisticated taste, so I ate them all deliciously, and asked the room attendant to convey my satisfaction with the dishes to the chef.
Moreover, in the case of Kaichoen, the veteran room attendants, who may be close to my age, brought the food in order at appropriate intervals, so I was able to eat the hot food while it was still warm. In addition, the room attendant, who seems to be a real veteran, will occasionally pop up in the room and talk to me, taking away the loneliness of traveling alone.
The image below is breakfast the next morning. Of course, I ate in my own room, not in the large room, and the miso soup was warm, and the boiled tofu was hot. Well, I was impressed by myself when I said, "This old man in his 70s has been eating really well for two days in a row since morning."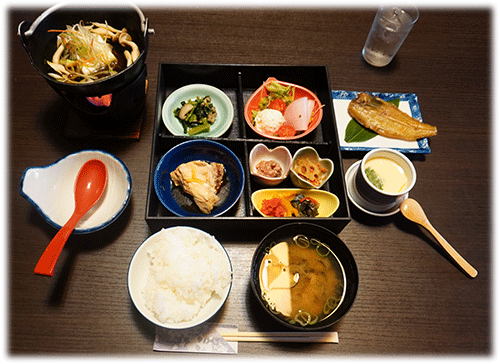 ---
The original landscape of Japan that has lived in harmony with nature
On the morning of the fifth day, I headed for the final leg of my trip, embracing the words, "All is well that ends well." On this day, I decided to go to Iwami Ginzan, which is about 110km away from Kaike Onsen, which takes about 2 hours. On the fourth day of the previous day, I went to Mt. Daisen and then visited the Tatara and Sword Museum in Okuizumo-cho, Shimane Prefecture, so this time I decided to go to Iwami Ginzan.
The reason why I was interested in tatara ironmaking is because I myself use kitchen knives to cut fish, cook fish, and make sashimi and sushi. Therefore, I was also interested in the iron materials used for kitchen knives, and by learning about steel, I was also interested in the tamahagane used for Japanese swords.
According to the Tatara Fudoki of Izumo Province, the following is written about tatara ironmaking.
Tatara ironmaking, an ancient Japanese method of making iron, not only produces excellent iron, but also regenerates the former iron sand mining sites into vast rice paddies and permanently recycles charcoal forests for fuel. In this way, it has supported Japanese society as a sustainable industry in which people and nature coexist, and the distribution of iron has brought cultural relics all over the country and nurtured local culture. In the Okuizumo area, granite containing high-quality iron sand, which is the raw material for tatara ironmaking, is widely distributed, and forests for obtaining charcoal for fuel are also extensive. Therefore, it seems that many steelmaking engineers have gathered in search of these resources. When a method called ``tetsuana nagashi,'' in which a mountain was cut down and the earth and sand were poured into a waterway to extract iron sand, a large amount of iron sand was needed to cut down the mountain. However, instead of leaving the site as it was, the ponds and waterways used in the Tetsuana Nagashi were used to systematically regenerate the farmland and create terraced rice fields. Furthermore, most of the remaining soil from which the iron sand was extracted was deposited in the downstream area, and became the present-day Izumo Plain and Yasugi Plain, which are vast breadbaskets. In tatara ironmaking, the forests for burning charcoal were cut down on a large scale, but in order to make charcoal burning permanently, the forests were repeatedly cut down in a cycle of about 30 years. As a result, many beech forests and other forests rich in nature remained in the mountains of Okuizumo, and tatara ironmaking was a sustainable industry in which people and nature coexisted.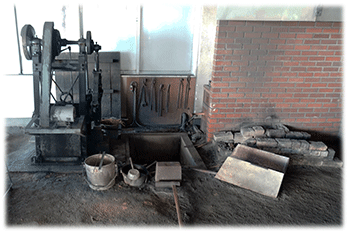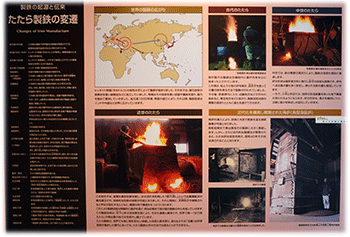 And at the next Iwami Ginzan, there was a similar aspect to Okuizumo's tatara ironmaking. Generally speaking, the development of silver mines requires a large amount of wood for firewood and charcoal for the refining of silver. The Iwami Ginzan silver mine managed its forests appropriately, which enabled development with less impact on the environment. The Iwami Ginzan Silver Mine is registered as a World Heritage Site. One of the grounds for its registration is the environment-friendly production method of silver, which is mined by digging through narrow tunnels without destroying mountains or cutting down forests. This kind of consideration for the environment, which is needed in today's world, was already being carried out in this place.
The image below shows the townscape seen from Sekijyozann Kanzeonji Temple on a rocky mountain in the Omori Ginzan area.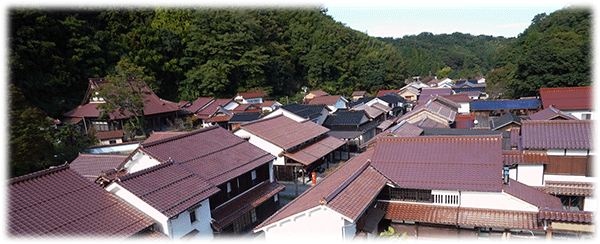 In the image above, red roofs of Sekishu tiles are lined up, but this townscape is a landscape created by the prosperity of the Iwami Ginzan Silver Mine. Sekishu tiles have long been handed down among tile craftsmen as hard and durable tiles that are resistant to freezing and impervious to water. Kimachi stone from the Izumo region is used for the glaze, giving it a unique reddish-brown color, which is why it is also called "red tile." High-quality tiles can be made by using good soil and firing with a flame that looks like white light at a firing temperature of 1300 degrees.
Red tiles are not only here, but when traveling in Tottori and Shimane prefectures, red Sekishu tiles, which are not cheap by any means, can be seen everywhere. Looking at this landscape, I felt like I was getting a glimpse of the richness of this region. In the Tottori and Shimane regions, there is a system of coexistence in which natural products are skillfully circulated, such as the relationship between the seafood of Sakaiminato and hot springs, the tatara iron manufacturing, and the Iwami Ginzan Silver Mine. I felt that there is a richness that has been passed down from generation to generation.
Japan is currently in an unprecedentedly unstable political and economic situation due to factors such as the weak yen and the war in Ukraine. Since big cities such as Tokyo and Osaka are closely linked to the global economy, they must be directly affected by this. However, the regions of Tottori and Shimane that I traveled to this time, of course, will be affected somewhat economically, but I think the damage will be less than the areas that rely on economies that are directly connected to the big city world. This is because this region is rich in seafood, and has long followed a natural recycling society. That's why I believe that if something happens, we have established a foundation that will allow us to make a living here alone, without the need for exchanges with other countries or Japan.
Tottori Prefecture is said to have the lowest population in Japan, but that is not a problem for the people who live there. On the contrary, I think that it is possible to live a rich life because it is so. It was also a trip that made me reconsider what is important as people live.
---
---
An opinion and the communication are to iinfo@fish food times

Date of updating 1 Nov. 2022