Welcome to FISH FOOD TIMES
---
Jan. 2016 issue No.145-2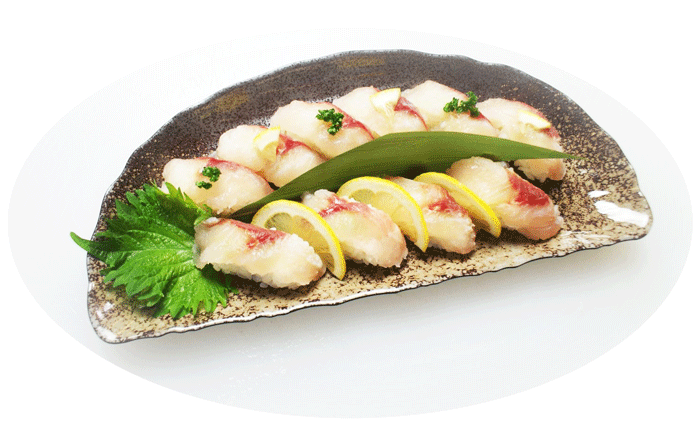 Catfish nigiri sushi
---
Freshwater fish catfish genus that live in Japan is a Japanese common catfish, Iwatokonamazu, silurus biwaensis, besides exotic species of channel catfish.
While in Japan have utilized catfish as food from ancient times, become 1965's, chemical fertilizers and pesticides used in seawall reduction and paddy fields of the river, abundance of habitat is degraded catfish catfish was reduced by such . So to start aquaculture technology development of catfish from 1980 before and after, in the late 1990s has advanced full-fledged aquaculture business in Saitama prefecture is also solved cannibalism problem with stage larval fish. But catfish Ibaraki, Nagano, Aichi, Gifu, Okayama, since that is not specified in the fishing rights fish species other than the prefecture, such as catch of catfish, including the aquaculture of the entire Japan is not indicated as a numerical value. Because of this catfish is in Japan is exactly the how much of reality that do not know almost what has been fishing.
And in current Japan, catfish is almost nil go up it to the Japanese table as fish dishes named of catfish, is a current situation that is very narrow eaten as a regional specialty regional cuisine, catfish almost never to see the sold in fish shop of Japan.
But in fact many Japanese, fast food fish burgers, fish fry in the taverns and the public cafeteria, white fish in the lunch pack, white fish in prepared foods department, frozen white fish of super, in the form of such as, it is should be able to understand and read the following sentence in which the contents are you are eating a substantial amount without being informed that's catfish that has been imported from abroad.
---
When you move your eyes to the world other than Japan, catfish is found to be a very large presence as a food fish.
Aquaculture catfish production volume in the world, but in 1995 was about 450 000 t, it soared to 1.66 million t in 2005, and more in 2008 is increased to 2.8 million t, was increased to more than five times of the day in 1995 . And country catfish production volume in 2008, Vietnam ranked first of the commanding lead in the 1.26 million t, then second place China 690 000 t, 3-position the United States 230 000 t, following Indonesia, Thailand, Malaysia and Southeast Asia countries have continued. <Numeric character references Fishstat Plus 2010: FAO time series world fisheries statistics of the (United Nations Food and Agriculture Organization)>
And the Aquaculture production volume is often best in the catfish genus is a scientific name Pangasius bocourti catfish order Pangashiusu Department Gibachi Phang Nga Dionisios genus Pangasius. In general, catfish-class with the name of the Vasa in Southeast Asia, in 2008 has been production 1.38 million t, almost half of the world's catfish production volume's a this Basa. Also are much like fish, which is referred to as the scientific name Pangasius hypophthalmus catfish order Pangashiusu Department Gibachi Phang Nga Dionisios genus char, but not only its appearance, so can not be almost recognizable if dismantled, two kinds of fish are less clearly distinguished and which it does not seems, 1.38 million in the t are such that better was considered to also include the char.
Since the pick-up even FISH FOOD TIMES November 2011 issue No.95 and No.95-2 about this Basa or char, I want you to reference, if possible. In this time of the magazine, or Basa whether or char, actually it had been noted that it is not known precisely. Despite Basa and char are inherently different species, of how to call in the United States Sawai, and involving also designation Phang Nga in Europe, seems a confused have been a variety of commentary in a variety of literature . The following image's image that can not be determined whether the Vasa or char that I was taken by the Ho Chi Minh City market in 2011.

Such was supposed to be, is as confusion has been multiplied within the supplier catfish are intentionally misleading call you at their convenience. In recent years for export Aquaculture catfish, like the taste of the char is favored by Westerners, the producers also on the grounds that better growth speed was shifted to early char good cost performance, almost become a char in Europe and the United States market the thing with a certain while.
Such as in these catfish Europe and the United States, fish burgers, frozen fish fly, cooking material for such as fish and chips, mainly frozen food manufacturers come in handy as a raw material for plant production products, now important to position a must-have as fish of raw materialsIt has become. This is not Europe only, even in Japan, which has boasted a fish-eating culture since ancient times, with the progress of simplification-oriented food, for example, become a name, such as "white fish...", Frozen food, hamburgers , Hokkaben and super pack lunch, even white fish menu of the masses cafeteria, etc., unconsciously it is're eating exotic catfish, such as Vietnam.
---
That is also in Japan, and of whether the true character are using what fish to the dish, as the material of inexpensive fish cuisine menu-class even without knowing the trade name, even in the Japanese food industry in general has been found useful but it is the foreign production catfish.
However, on the other hand, it seems to have also appeared super that let you sell catfish in the clear its origin.

Attempts to this supermarket to sell in such a way that the image of the above, what the results of the show, although can not I know, major retailers that specializes in mass marketing is making full use of its sales force by doing that, the idea of trying to one profit by purchasing a large amount of inexpensive fish raw materials from abroad will not be can not understand.
But it has been eaten since ancient times in Japan, without attention to Manamazu Japanese endemic species called japanese common catfish in the English name, cheap to bite on exotic raw materials and stir the food culture of Japan, and most destinations in the Japanese making the movement, such as to weaken the water industry, it can not help but feel the question really whether such be carried out as a retail leader in Japan.
When you from this perspective, because "eel taste of catfish" that are trying to tackle the Kinki University is, that the fish farmers of the eel has become a matter of life and death by eel of resource depletion, Kinki University, together with them , that is an attempt to let the problem resolved, the attitude and the future direction to deal with things fundamentally there is a big difference with the major supermarkets.
The presence of fish called catfish in Japan, is a big as the freshwater fish that live in the inner surface of the water relatively fish, the portion to eat for this many, was one of the sea without a valuable source of protein in the inland region. While recent years natural resources of catfish have a reality that is rapidly decreasing due to the deterioration of habitat, because he already catfish because full Aquaculture technology from the egg has been established scientifically, last year's movement of Kinki University It is considered to be or not to have come to the time it should take a review of that production and consumption of catfish in Japan as a clue.
Japanese Manamazu (catfish) is not only eat baked as grilled, it is delicious even if the sashimi and sushi in the raw was my own can be confirmed by their own experience. Considering the trend of the food habits of the Japanese the most emphasis on freshness, even if it can be catfish it seems to be or not to be found real value in it to be distributed as a live fish.
Catfish early growth, since production costs even if the Aquaculture, such that it's one third of the eel, would not be to implement the "price that can be used in the fisheries industry," even if the live fish distribution.
2016 I think it should become a "catfish first year"
---
---
bonus


This time, try to me for a "bonus" image with no relationship with the above-theme below.


It is a complete image of dried mullet roe was created developing in FISH FOOD TIMES No144 of last month in December 2015.


Above image is dried mullet roe finished product after about two months.


By thinly sliced which was made in this way. It was dry during the two months it seemed a little too long, and this has been firmly on the ticking. Although the taste is faintly feel the taste and chew well, it is not the taste that was aged. When you make a dried mullet roe, when to eat at one of about a month half of the present case, I thought that it might be had eaten a little more delicious.

An opinion and the communication are to iinfo@fish food times

Date of updating Jan.1, 2016