Welcome to FISH FOOD TIMES
---
Aug. 2018 issue No.176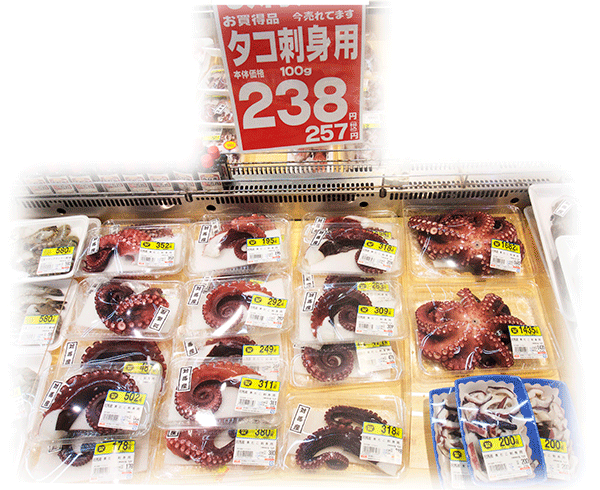 Hand-made boiled octopus
---
Octopus prices are rising steadily
The retail price of boiled octopus is now selling at 398 yen / 100 g. Of course there are stores selling at a selling price of less than 300 yen per 100 g, but it is called a small octopus, but the evaluation is not originally high and it is a small size that has been sold cheaply since before. It is now easy to use sushi material and sashimi etc. The selling price of 1 kg or more now has to be prepared to exceed 300 yen / 100 g.
The average wholesale price of raw octopus in the recent Tsukiji fish market has been changing like the graph below. This is only the average price of raw octopus in general, and of course the large size of common octopus should be much higher than this average price, Chestnut octopus, North Pacific Giant Octopus is lower price than common octopus, Long-armed octopus, Webfoot octopus, etc. are estimated to be further lower prices.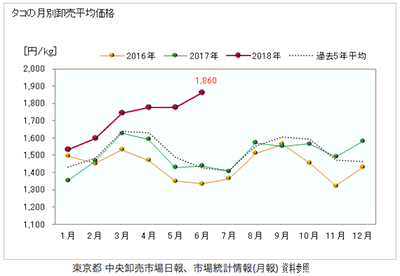 This is because the prices of imported frozen octopuses imported from Japan abroad such as Mauritania and Morocco in Africa are rising, and the prices of Japanese raw octopuses are rising as a result of that influence is there.
For example, the import price for Japan from the latest Mauritania is as follows.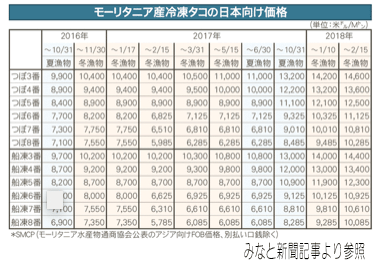 The table above is the selling price for Japan until August 20, 2018 which the Mauritania Marine Products Trade Association (SMCP) recently announced. Explaining this table, the No. 3 size of Pot fishing with the highest price, the winter fishery caught by February 15, 2017 was 10,400 dollars per ton, it was February 15, 2018 The winter fishery caught up to $ 14,600 has risen by 40% from one year ago. And comparing it with the smallest size 8 in the Pot fishing, this is exactly an abnormal price rise because it is about 72% as high as 5,985 dollars per ton to 10,285 dollars in one year.
By the way, the specification of frozen octopus is number 3 or 5 so that the size can be understood, the table below will be the standard for sizing.
Octopus standard (per10kg)
No. 2
3〜5(c/s)
2.0〜3.3kg

No. 3

5〜7(c/s)
1.4〜2.0kg
No. 4
7〜9(c/s)
1.1〜1.4kg
No. 5
9〜12(c/s)
0.8〜1.1kg
No. 5
12〜16(c/s)
0.6〜0.8kg
No. 7
16〜22(c/s)
0.4〜0.6kg
No. 8
22〜30(c/s)
0.3〜0.4kg
No. 9
30〜40(c/s)
0.2〜0.3kg
It is said that the most delicious one in frozen octopus is the largest number 2, but in Japan it is generally number 5 that business professionals are favorably used for commercialization when commercializing, and the size of number 8 or less is It is only chopped roller-like.
In other words, octopuses are more delicious and more valuable as they have larger sizes, so they are trading at a higher price as they are larger, but recently they have aggressively purchased their large size without worrying about the price at a fishery company whose ground is Europe , the price of African octopus has been booming as a result of the powerful buying of European forces.
Octopus was once called devil fish and was not seen outside of Japan, South Korea and southern Europe, but recently it is increasingly consuming in Japanese food boom and health-oriented seafood restaurants in Europe and the United States. Among them, the Spanish crowd seems to buy an octopus with a strong momentum, but this is a terror and tension in the Middle East successively, while traveling to Turkey, Egypt etc. in the Mediterranean coastal countries is avoided, while in Spain It is said that the demand for octopuses indispensable for paella and olive simmering has become stronger as the popularity has increased.
Octopus prices are rising against the backdrop of this strong demand centering on European forces, but Mauritania is planning on how to not lower the octopus market by the Marine Products Trade Association (SMCP) . For example, in the past, when the octopus market gained weakness worldwide, Mauritania has been working to halt the market decline by setting a holiday period for months and making supply tight due to resource exhaustion. Because there is such a national octopus price stabilization policy, it should be prepared that octopus prices will not drop easily in the future.
Amid such global movements, Japan imported 1.5 million tons from Mauritania, 1.4 million tons from Morocco, 0.9 million tons from China, 0.4 million tons from Vietnam, totaling 5.6million tons from all over the world in 2017. But Japan can not overlook the expensive octopus price as it is and Japan is beginning to explore the development of a new octopus supplier.
Originally Mauritania became the world's most octopus producing country like this now, in 1977 a Japanese national, Masaaki Nakamura, was dispatched from Japan's overseas fishery cooperation foundation to Mauritania at the age of weak crown 29 years old, It is starting with teaching octopus fishing know-how on site locally alone.
And in West Africa there is a country called Senegal with a fishing ground where plankton is rich and deep water is generated like Mauritania, JICA (International Cooperation Organization) has focused on this country, and octopus fishery Technology and logistics, and in the meantime Senegal may come to be a country that supplies octopus to Japan next to Mauritania and Morocco.
---
Production and sales of a food octopus in Japan
Frozen octopus imported from abroad such as Mauritania is sold to the fisheries officials by Japanese manufacturers to commercialize it in boiled octopus or steamed octopus at the factory. As you can see in the graph below, when comparing by time series by year, I think that you can understand that imported frozen octopus is rising sharply from last year.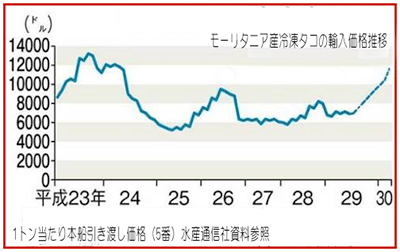 Marimitsu Co., Ltd., an edible octopus processing company in Fukuoka City's eastern district, stopped the business on 17 November 2017 and filed for bankruptcy on occasion, as a result of failing to pass the sharply rising raw material price to the wholesale price .
Boiled octopus manufacturers sell them to wholesale stores and retail stores in the form of chilled or frozen but naturally there are manufacturing costs, logistics costs and other expenses added at each distribution stage and consumers see it end selling price is decided.
For example, at a fish store in the supermarket, the person in charge should have purchased things produced by boiled octopus manufacturers directly with manufacturers or through wholesalers and they basically assume mass sales, so how cheaply purchase, and It seems that it is important to think how cheap the selling price can be.
However, the method of selling boiled octopuses based on this idea at this time is that as soon as the purchase price rises sharply this way, we sell large quantities with cheap prices as we have done so, It can not be maintained.
---
Do we have to rely on overseas frozen octopus?
At the moment there are no octopus farms like red sea bream and yellowtail, all are limited to natural products. So it is impossible to expect phenomena such as bluefin tuna that prices gradually become cheaper due to the rise of aquaculture and become easier to sell.
However, Nissui Central Research Institute Oita Ocean Research Center succeeded in producing a small number of artificial seedlings of Juvenile octopus in 2015. In addition, in April 2016, dozens of floating larvae hatched became Juvenile octopus in July, and when entering the stage of Juvenile octopus it became relatively stable and could be raised for 7 months from hatching It was over 1 kg. Then, in 9 to 11 months after hatching, several mating and laying eggs were seen, and eggs derived from adults hatched at the research center in April 2016 hatched in April 2017 and tens of thousands of common It got octopus larvae and succeeded in complete culturing of common octopus, which is considered to be extremely difficult.
There is still a big challenge left to practical use of fully cultured common octopus and it seems that much research is needed for commercialization and it can be said that we finally took a big step toward mass production of octopus farming , It seems that the complete farmed common octopus shows up as a product a little earlier.
In other words, as the demand for octopus expanding worldwide is growing all over the world, unless octopuses abnormally occur in some areas and octopus rapid supply increase does not occur, it is unlikely that octopus prices will be lower , It seems to be that we have to build up a selling system based on the high octopus price at the present moment.
Well, in this era when frozen octopus from overseas became too high, how far is it to go away from that premise and turn your eyes to domestic octopuses?
The domestic octopus production seems to have been caught around 37 thousand tons in 2016, and it is estimated that a total of about 100 thousand tons has been circulated in the country in total with the import amount. This is a statistical figure on the surface via the fishery cooperative, and in fact there are octopus catches in the country that do not come out in numbers, the real domestic octopus production should be a bigger number.
Originally in Japan, there was an abundant resource of octopus from long ago, from a certain time in the past since the mass supermarket sales and so on searching for cheap octopus Mauritania and Morocco and overseas resources development It is. However, as the octopus has become cheaper because of the reason as described so far, it seems that, for example, there was the fact that the common octopus was caught ten times as much as the previous year in the offing of Minami Sanriku-cho last year , Is not it an idea to go home again and look at the domestic octopus?
---
Envy to octopus lovers! There is such a shop · · ·
Let's explain the beginning image soon. The shop that sells Octopus images is one of the author's guidance, and the store is located in Tsushima, Nagasaki Prefecture.
The octopus sales price of 238 yen / 100 g which is displayed in pop is an ordinary regular price without any special selling price or anything. Octopus size is small 700 g, large size is about 1.5 kg, on average it will be less than 1 kg, so it is probably just usable useless nummber 5 size as the standard of frozen octopus.
This octopus is purchased directly from a fisherman who has excellent octopus fishing techniques in local Tsushima. Octopus fishing is unstable due to seasonal factors, so when octopuses are landing, we buy all the octopuses that fishermen will sell and keep them in the store's freezer. And in the shop, we thaw the octopuses stocked as needed, produce homemade boiled octopus in the shop and sell chilled without freezing.
This shop arranges an octopus purchase price with a fisherman and always comes at a fixed price throughout the year so we do not do fluctuate between hopes and fears in the octopus price situation . Of course the purchase price can not be announced, but as the selling price of handmade boiled octopus in the store can be sold at 238 yen / 100 g, the reader should be able to guess that it is a reasonably advantageous price. Rather than the current prices of raw octopuses The purchase price was far from the market price, but it was a price that each one could convince as it was. However, now that not only frozen octopuses abroad but also the domestic octopus market price has changed so much, it is not until the fishermen will maintain the current wholesale price, there are also some worrying aspects It is also a fact.
I do not know how many shops selling by handmade boiled octopus in the shop are selling at the supermarket nationwide. But there should not be so much, there is no doubt that there are probably rare numbers.
Let's introduce the manufacturing process of that rare example to the following.
Production process of homemade boiled octopus in the shop
1,Octopus with plastic bag taken out from freezer
9,Put it slowly into the boiling water from the leg, take care not to drop the temperature of the hot water, and raise and lower the leg several times and put it in hot water.
2,Take it out of a plastic bag and thaw it for a day to boil it octopus.
10,Depending on the size and number of the octopus, the size of the saucepan, the ability of the gas, etc., the boiling time is on average about 4 to 5 minutes.
3,Until completely thawed and thawed in running water.
11,This image is a case where a large pot is placed on a gas ring for business use with high capability, and some octopus is put there, so that boiled octopus can be made efficiently.
4,Octopus in the unfreezed state
12,When octopus turns red and boils up, grab the body with a tongue and pull it up from the hot water.
5,Put a handful of salt on one octopus in a bowl.
13、Boiled octopus taken out from a pot.
6,Salt brush in the ball and remove slime. In the case of live octopus it is very difficult to remove slime, but freezing octopus makes slime removal easier.
14、Boiled octopus quickly puts in plenty of ice-filled balls and poly bucket water and cools.
7,After removing slime, wash off the octopus while throwing running water, the remaining slime, the whole dirt, and a small dirt entering the sucker, etc., rinse thoroughly.
15,State taken out from the ice water.
8,In the case of an octopus, put a tablespoon of vinegar in boiling water in a pot.

16,About 1.2 kg of in-store handmade boiled octopus is completed.
The handmade boiled octopus that is completed in this way is sold every day in this store like the image below.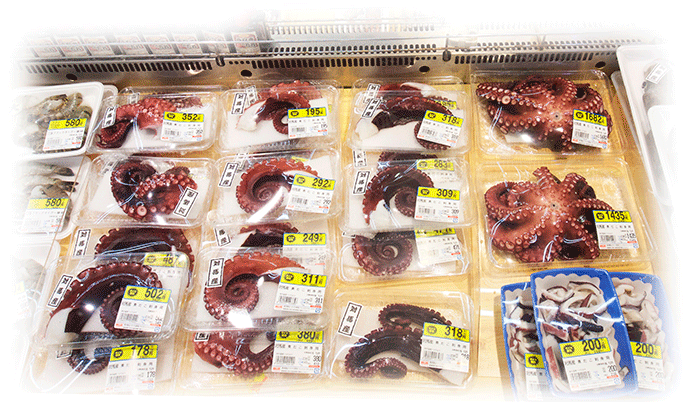 Regular customers who are always shopping at this shop know how delicious the handmade boiled octopus from this Tsushima is delicious and how cheap than other stores, and this boiled octopus does not sell and will never remain, of course it is impossible to cut prices. If manufacturing is not made in time and these octopuses do not exist in the selling space, customers are popular items that ask for the time at which octopuses will line up in the sales floor.
This kind of in-store handmade delicious boiled octopuses, which are sold at such a cheap price, should probably not be found even if it searches in Japan nationwide. So from that point alone, people living in Tsushima can say that they are happy.
This handmade boiled octopus is a signboard product that has become an overwhelmingly differentiated product not in any competitor in Tsushima, but the biggest problem of the store is that it will not run out in the summer when many octopuses are caught, In the winter season where octopuses are low, there is no arrival of octopus and the inventory of the freezer is exhausted. In the absence of boiled octopus raw material, you will have to use boiled octopus imported, which is the same as other shops, so it will be discouraged for customers who have come to expect a boiled octopus with handmade.
However, purchasing frozen octopus from a remote place other than Tsushima, making handmade boiled octopus, so we are sticking to the fish from Tsushima Because the fish shop in this store seems to be different from direction for reaching the goals, it is not doing.
Based on the regional nature of Tsushima holding the fishing ground where the fish selling place of this shop is a remote island and abundant fish species are caught, basically the raw fish basically gets near 100% in Tsushima It is because they purchase only fish caught and operate it. As an exception, there are some fish that must be purchased from outside the island, such as raw salmon that is not caught by Tsushima. However, tuna is only the raw fish tuna preeminent freshly purchased directly from fish farming, and sashimi and sushi using this tuna are exceptionally popular. The evidence supporting that the high popularity is not a lie is a fact that it is surprising that everyone seems to be lying, "There is no day when sushi and sashimi are not ordered every day".
Directly operated fresh fish store of this store started with the withdrawal of the tenant fish shop six years ago, and the author engaged in the operation from the initial stage of the design of the sales floor and the workplace, which is in the sixth year of this year, I believe that I have definitely guided the fish shop in the direction of creating a sales floor sticking to fresh fish from local Tsushima.
From around the fifth year, sales began to exceed twice the start time, and in that region I got a solid reputation for unwavering recognition. The big factor is that the product such as "In-store handmade boiled octopus" is commercialized to employees working there "Hard with a body".
It is possible to purchase boiled Octopus made from overseas frozen octopus produced by the manufacturer, as well as Tsushima. However, this fish shop thinks of the customer 's happy eating octopus handmade and is eating octopus while being wrapped in its unique smell of raw octopus. And they work on to fag oneself to death and are striving to make their own products. Its appearance differs greatly from the situation where the supermarket at the time is overwhelmed by words of labor saving, rationalization, and efficiency, and the seller 's feeling goods are erasing more and more from the selling space.
There is no future if we do not realize products that customers really appreciate.
---
An opinion and the communication are to iinfo@fish food times

Date of updating 1 Aug. 2018