---

Welcome to FISH FOOD TIMES
---
Apr. 2023 issue No.232

Spotless smooth-hound sashimi & yubiki
---
Long-awaited round shark
Just like waiting for a lover I haven't seen yet, I was able to meet the fish I always wanted to meet at the fish section. Even though it was outstandingly fresh, it was available at an exceptionally low price.
This is it.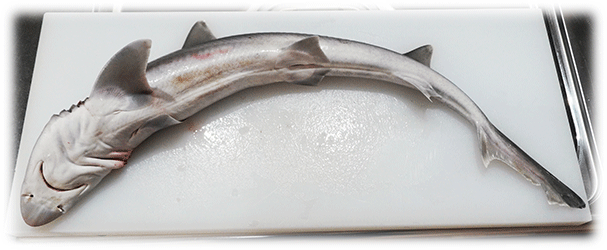 The fish name is Spotless smooth-hound. This shark belongs to the family Triakidae, genus Mustelus. The similar Starspotted smooth-hound has white markings on its surface, but the Spotless smooth-hound can be distinguished by its absence.
The web version of FISH FOOD TIMES will soon be celebrating its 20th anniversary, and I've always wanted to use sharks as a theme someday. And in order to realize that, I had prepared such a book long ago.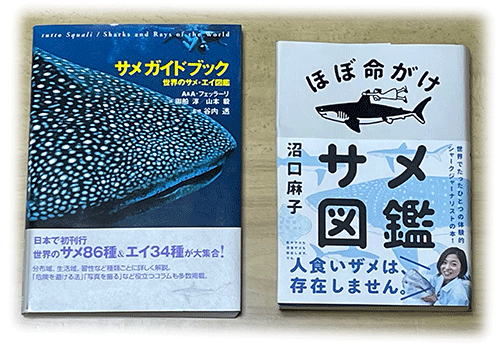 One is the shark guidebook (14th edition) published in 2015, co-authored by Andrea and Antonella Ferrari. The second is Shark Encyclopedia (3rd edition) published in 2018, which is a book dedicated to sharks written by shark journalist Asako Numaguchi.
Many years have passed since I bought the book, and finally the scene where this book can be used has come... I would like to quote various shark knowledge written in these books in this month's issue. …I thought so, but unfortunately the family Triakidae, genus MustelusSpotless smooth-hound, is not mentioned in a single line, even in books dedicated to these sharks.
The Spotless smooth-hound was not mentioned in either book, but the genus Mustelus to which the Spotless smooth-hound belongs was mentioned in the Shark Guidebook. According to it, there are about 20 species of genus Mustelus, migratory and small for a shark. Due to the delicious meat, the fishing pressure is high, and there are concerns about the maintenance and preservation of the species because they are caught in large quantities around the world. One of the characteristics of genus Mustelus is that it has a "mosaic tooth arrangement" that is convenient for preying on benthic mollusks and crustaceans.
The left image below is the dentition of a Spotless smooth-hound photographed by the author, and the right image is the dentition of a reef shark that is published in a shark guidebook. The spotless smooth-hound's teeth are so cute compared to those of the reef shark.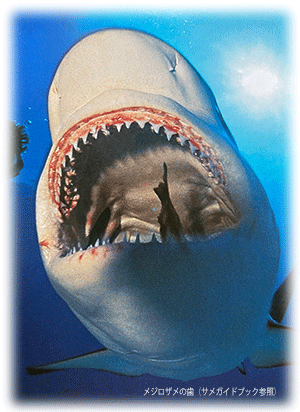 Sharks were born about 400 million years ago, and 509 species have been confirmed in the world, from the whale shark, the largest fish, to the palm-sized Smalleye pygmy shark. They are very diverse and mysterious existences full of unknowns.
From this book, the author draws on the information of an expert who has in-depth knowledge of the mysterious shark. As a person involved in the sale of marine products, I would like to focus on what I should do to enjoy the sharks sold in the fish section, and proceed with the description below.
---
Food culture of sharks
I have a vague idea that there may be some readers who have never eaten a shark, but I wonder if this is actually the case. In the Kyushu region, including the Fukuoka region where the author lives, there has long been a dish called modama. These are small sharks such as Spotless smooth-hound and Starspotted smooth-hound that have been made into yubiki, and have been sold at fish counters since ancient times, and have been purchased and eaten. Aside from this modama, I haven't heard many stories in the area where I have lived, that people have been eating shark as raw sashimi without any resistance. And I've never had that in my eating habits before.
However, in Japan, sharks have been eaten most in the Tohoku region. In that area, it has been eaten in various dishes from long ago, including sashimi, simmered dishes, grilled dishes, and soups. In addition to this, the Chugoku region also has this eating habit, but in the central area of the Japanese archipelago, there is no such eating habit at all.
The following is information based on materials published by Professor Satsuki Une of Kagawa University in an academic journal Shujitsu Ronso.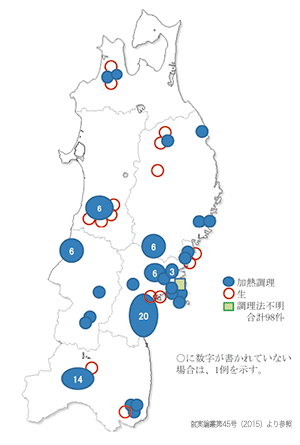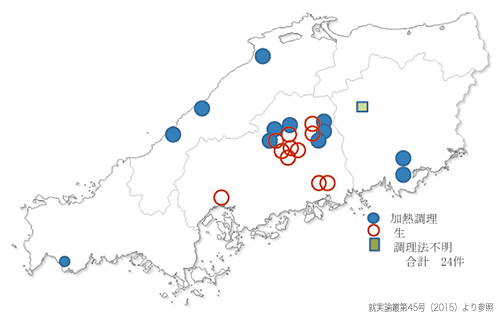 The figure above is a material published by Professor Une in Shujitsu Ronshi. According to this, shark sashimi has a long history in the Shobara and Miyoshi regions, which are located in the mountains of Hiroshima Prefecture. In Shobara and Miyoshi, Hiroshima Prefecture along the Chugoku Mountains, sharks have been called "wani" and have been eaten mainly as sashimi since the old days when there was no mechanism such as a cold chain.
It was possible to eat shark sashimi in the mountains because sharks decay slowly. Sharks contain very high concentrations of trimethylamine oxide and urea in their bodies, which convert to trimethylamine and ammonia when they lose their freshness. This phenomenon allows the sharks to rot slower due to loss of freshness, which makes them more shelf-stable at room temperature. Surprisingly, it is possible that even two weeks after catching the shark, it will not rot without refrigeration, making it possible to eat the shark raw as sashimi.
Shark urea and ammonia
Urea and ammonia are major characteristics of sharks. Common fish such as sea bream and tuna are called bony fish, and saltwater fish among them have a higher salt concentration in the sea than their own bodies, so if nothing is done, the water in the body will be lost due to osmotic pressure. For this reason, the salt concentration in the body is maintained by drinking water and urinating so that water does not escape from the body.
On the other hand, cartilaginous fish, such as sharks, maintain salt concentrations in their bodies in a different way than bony fish. Cartilaginous fish use 2,000 times more urea than bony fish in their bodies to produce as much fluid and blood as seawater. For this reason, there is no need to adjust the concentration by osmotic pressure, and it is said that cartilaginous fish hardly drink water. Another advantage of urea is that cartilaginous fish such as sharks do not have swim bladders, but urea, which has a lower specific gravity than seawater, allows them to float easily in water without a swim bladder. The absence of a swim bladder means that sharks are resistant to changes in water pressure, allowing sharks to move freely between shallow and deep waters.
Traditional shark eating habits in the Chugoku region are centered particularly in the northern prefectures of Okayama and Hiroshima. Once upon a time, sharks caught in the San'in region had their fins removed for export to the Qing Dynasty for use as shark fins, and the rest of the meat was discarded as useless and unnecessary waste. However, hawkers took notice of the discarded shark meat and began transporting it to mountain villages in the Chugoku region to sell it. This is because there was an admiration for unsalted raw fish in mountain villages, and thus unsalted raw sharks have been eaten as a meal on Hare (special days for celebratory events). This was realized through the business of peddling sharks, which are non-perishable raw fish, and transporting agricultural products such as rice harvested in the mountains to coastal areas as return cargo.
In this way, sharks can withstand long-term transportation due to their preservability, and can be eaten raw even after a long period of time. However, contrary to the long shelf life, a strong ammonia odor comes out as the days pass. Nevertheless, it is said that the strong ammonia smell actually stimulates appetite, and there are cases where it is dipped in ginger soy sauce or boiled to remove the smell.
On the other hand, in the Tohoku region, sharks are used not only in inland areas such as the Chugoku region, but also in coastal fishing areas. Heated cooking methods (boiled, grilled, soup) account for the majority of cooking methods. Of course, there are also examples of raw cooking, and in addition to sashimi, the raw foods in these areas include vinegared miso and Namasu. The reason that cooked shark dishes are more common may be related to the fact that in the Tohoku region Hare meals include boiled shark (including simmered shark that has been grilled).
The Joetsu region of Niigata Prefecture is said to have the highest consumption of shark meat in Japan in the Tohoku region. After all, there seems to be a reason similar to the Chugoku region that the eating habit of eating shark meat has taken root in this region as well. The main way to eat shark is not raw sashimi, but it is widely used in simmered dishes, boiled dishes, and zoni, and it is said that you can't welcome the New Year without shark meat.
---
Commercialization of Spotless smooth-hound
In this way, while there are areas where sharks have long been eaten, For regional reasons, sharks are rarely delivered to stores as whole fish, so even though fisheries professionals have been in the business of selling fish for a long time, some of them have never even touched a shark. I know from my profession that there are quite a few people involved in the sale of such marine products.
It's a matter of supply and demand, and it's bound to happen because sharks aren't supplied to areas where there's no demand for them. Even though I have eaten modama, I have never worked in the fish section where sharks are disassembled and made into sashimi, so I am one of those people who have little connection with sharks. For this reason, for those who have had a lot of contact with sharks, this month's issue may not be worth reading, rather than being unsatisfactory. However, I would like to proceed with the description of sharks, thinking that there may be new discoveries for people who have little connection with shark cuisine.
Spotless smooth-hound was dismantled as follows.
Steps to remove internal organs of Spotless smooth-hound
1,Remove the first dorsal fin.
5,With a reverse-handed knife, cut forward to the base of the jaw.
2,All fins are removed, including the second dorsal fin, pectoral fin, anal fin, and pelvic fin.
6,Take out the big liver.
3,Remove tail fin.
7,Liver separated.
4,Insert a notch from the anus with an ever-handed knife.
8,The state in which the internal organs have been removed.
Next is the process of three pieces disassembling.
Spotless smooth-hound three pieces disassembling process
1,remove the head
6,Put a notch under the centralbone and cut open between the lower body and the centralbone.
2,Cut open the anal fin of the upper body in the direction of the tail fin. Use the knife as a reverse-handed knife from the cut of the anus, and proceed to cut from the back side of the skin.
7,Both sides of the centralbone are cut open, and only the fish meat between the skin and the centralbone is still connected.
3,While cutting open the top of the centralbone, cut forward to the head side.
8,Insert a notch under the centralbone on the tail side, lift the centralbone, and separate it toward the head side.
4,Cut open until just near the skin.
9,Cut off the centralbone and separate it in two along the line between the upper and lower body.
5,The state where the top of the centralbone on the upper body side is cut open.
10,Three pieces disassembled upper body side.
Looking at the work process above, I think some of you may wonder why the three pieces disassembling work is not done in the usual way like yellowtail and red seabream.
The reason is "for kitchen knives". In fact, at this time, just by performing steps 1 and 2 above for a short period of time, the sharp deba knife turned into a "not very sharp knife." This is due to scales in the shark skin, technically called "shield scales". The structure and formation process of shark scales are exactly the same as teeth. They are covered with enamel and are so hard that they are called "dermal teeth". The scales called shield scales are covered with something like armor that protects the whole body rather than a shield of scales. For this reason, cutting just a few dozen centimeters of skin severely damaged the sharpness of a single deba knife.
Originally, when making a cut during the anal fin in the process of work 2, I actually had to use a reverse-handed knife and insert the cutting edge from the back side of the skin. However, I accidentally hit the edge of the blade on the side of the skin that has hard scales like teeth in the usual way. In other words, if you take a method like dismantling a normal fish, the kitchen knife will be useless.
Next, let's move on to the process of cutting each part according to the cooking purpose.
Skinning of Spotless smooth-hound and cutting process by part
1,Remove small thin belly bones.
6,Cut the tail side of the upper body for fillet.
2,Remove the hard muscle part under the dorsal fin.
7,The state where only the tail side is cut into fillets.
3,Separate the ends of the abdomen.
8,fillets with the skin facing up
4,Remove the skin by the sotobiki method.
9,Assuming that the head side will be used for sashimi and sushi, cut it into a back body and a belly body.
5,with the skin removed.
10,The state in which the upper body is cut according to the use.
Next is the process of making a Spotless smooth-hound yubiki.
the process of making a Spotless smooth-hound yubiki.
1,Cut the skinned fish meat into bite-sized pieces.
5,Remove from pan and place in ice water.
2,Carved Spotless smooth-hound fish meat
6,Sprinkle lightly with salt to remove excess moisture.
3,Add the lightly salted water to the boiling water.
7,Finished with mustard vinegar miso on top.
4,Boil for 2-3 minutes.
8,A product that collaborated with usutsukuri sashimi.
For the back body, I tried nigiri sushi as shown in the image below, and it was very well received by those who ate it. I was told by those people, "It's so delicious that you wouldn't think it's a shark," but how should I take this?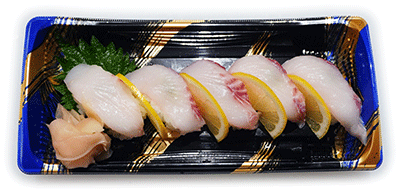 最後にSpotless smooth-houndのムニエルを作ってみた。
Meuniere of Spotless smooth-hound
1,Put butter in the frying pan.
4,Turn off the heat when the front and back sides become a moderate color.
2,Add floured Spotless smooth-hound fillets to pan.
5,Arrange on a plate and top with lemon butter sauce.
3,Cover with a lid and wait for cooking fire.
Meuniere of Spotless smooth-hound is completed.
In fact, this Meuniere was also really popular. This tasted good not only while the food was warm, but also after it cooled down. I felt that Spotless smooth-hound has a very high level as a cooking ingredient.
---
Shark demand and price
In this way, I tried making white shark into various dishes such as sashimi, sushi, yubiki, and meuniere, but I used only the edible meat part. For this reason, it cannot be said that the shark was used exhaustively. A shark is a fish that can be an excellent material that can effectively utilize almost all of the fish body as shown in the figure below.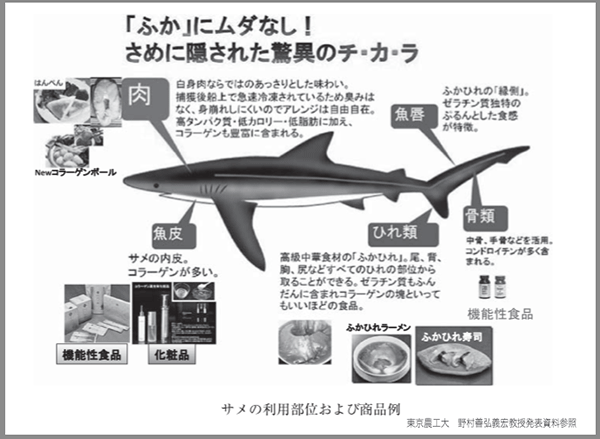 But I threw away the fins, the liver, the bones, the skin, all of these. In order to make the most of a shark that can use its whole body, I don't think I should do this. However, considering the balance of "cost and effect" that took time, I will make an excuse that I had to do it this way.
Actually, the spotless smooth-hound I bought this time, which is about 120 cm long, originally had a sticker with a price of 580 yen per fish at the store. The author was not attracted by the low price, but was happy with the opportunity to purchase a round shark, saying, "I'm glad I came to the store today! Then, a familiar fish sales manager who I'm familiar with gave me a discount from there to an even cheaper selling price and handed it to me.
I don't know how much he bought the spotless smooth-hound for, but judging from its freshness, I guess it wasn't a bargain sale price. This is only my imagination, but it seems that the purchase price was probably not so high. The person in charge sees the author's delight in meeting this shark, and judges that he provided a level of service at a price that would not be a loss.
In other words, in terms of supply and demand, Fukuoka is an area where sharks are not in high demand no matter how fresh they are. For this reason, even if the round shark arrives at the store in a state of good freshness, it is not possible to set a very bullish price, and in the end it seems that this price level will be settled. If the fresh spotless smooth-hound I purchased this time had arrived in cities close to the mountains in the Chugoku region, such as Shobara City in Hiroshima Prefecture, it might have been traded at a higher price. However, this shark was unfortunately delivered to Fukuoka, where sharks are not highly valued, so the price has become like this.
I will hide the price at which I actually purchased the spotless smooth-hound, but the sashimi in the opening image and the yubiki collaboration product will only cost about 100 yen if you exclude the material cost. The yubiki served with this sashimi doesn't need to be so bulky, but it was so cheap that I served a lot of it, and when I looked back later, I regretted that it was a little no-style product.
The price of shark is greatly influenced by the market price of Kesennuma Fish Market in Miyagi Prefecture, which handles the largest amount of shark in Japan. The pie chart below is a presentation material of Kesennuma Fish Market, and in 2021, 9,144 tons of sharks were handled annually.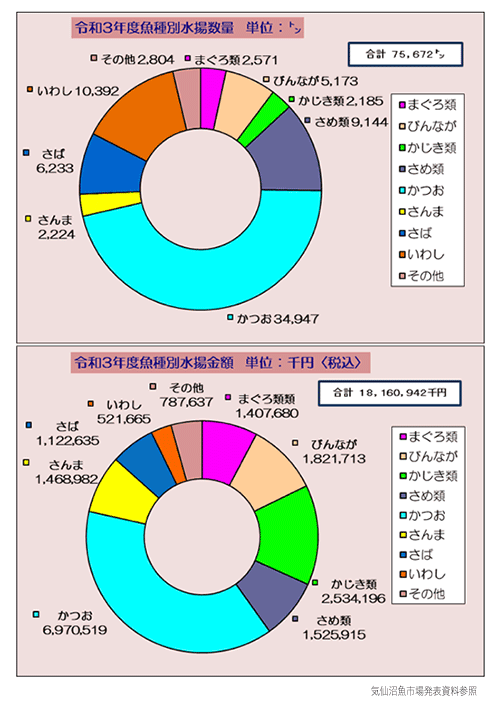 And the table below is the most recent announcement of the Kesennuma Fish Market on March 27, 2023.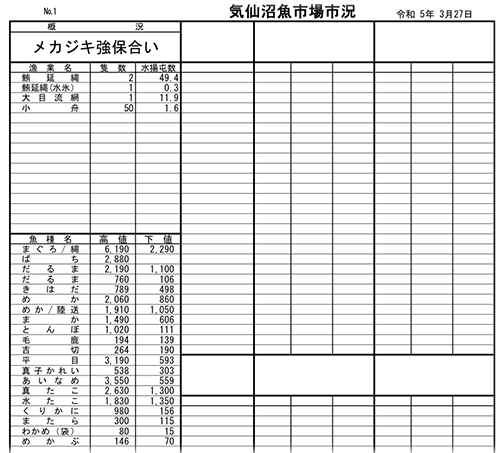 In the table below, yoshikiri is blue shark and mouka is salmon shark. The prices on this day were 264 yen to 190 yen/kg for blue shark and 194 yen to 139 yen/kg for salmon shark. It can be considered that this price is traded at about 1/10 of the similar size swordfish for the same purpose.
I can't tell if the shark that arrived at the Kesennuma Fish Market on March 27th is fresh enough for sashimi, but it's very cheap. If you ask whether such a cheap fish tastes bad when cooked, it is not so at all. Speaking of shark food in the world, the worst expression is "smell of urine". The smell of ammonia is exaggerated more than necessary, and it seems that people are just disliked because they don't know the true taste of sharks.
I don't know how many days have passed since the Spotless smooth-hound that I dealt with this time was caught, but I would like to strongly say that there was no smell of ammonia during cooking. And the spotless smooth-hound raw sashimi does not have the smell of ammonia, and blue fish such as mackerel and sardines have a more fishy smell. In other words, sharks are not stinky fish that don't taste good.
In Japan, there is a history that sharks have been used in various ways since ancient times, as there is no part to throw away. If you replace this with the fish market, you can say that most areas in Japan, with the exception of some areas, did not treat it as "fresh fish" at all. In other words, it is one of the unused fish in that sense. There are people who do not know that there are products that use sharks, such as kamaboko, hanpen, chikuwa, and satsumaage, which are made from sharks. It is undoubtedly difficult to sell unused sharks as fresh fish to consumers who do not want to eat sharks because they stink, even if they normally eat processed fish products made from sharks.
At least those who are in a position to sell fish should not dislike sharks from the beginning. If you haven't dealt with round sharks yet, the purchase price shouldn't be too high, so please buy it once and experiment with commercialization. The prejudice against sharks may disappear.
---
---
An opinion and the communication are to iinfo@fish food times

Date of updating 1 Apr. 2023