---

Welcome to FISH FOOD TIMES
---
Feb. 2019 issue No.182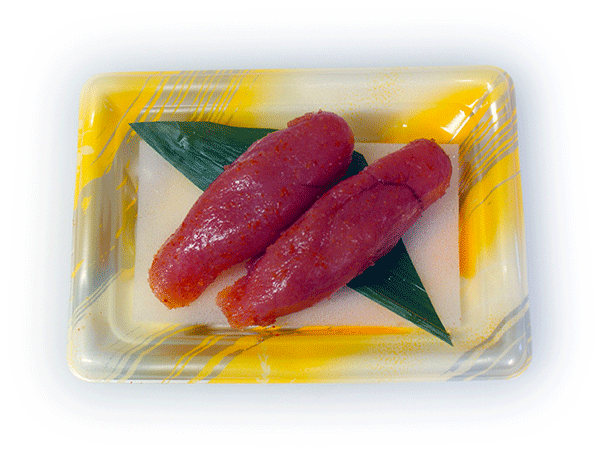 Again, what is Mentaiko?
---
Still 70 years, history is shallow Mentaiko
Toshio Kawahara, owner of "Fukuya", started selling mentaiko in Japan for the first time on January 10, 1949, this year is the year of 70th year's milestone since then.
When buying Fukuya's mentaiko, it is stated in the leaflet enclosed in the product.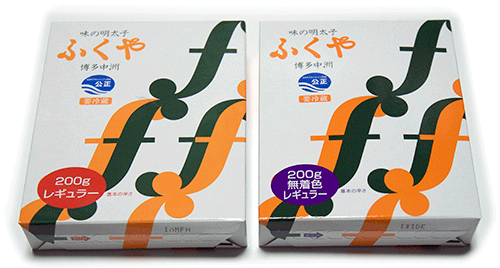 In commemoration of the 70 th anniversary of Fukaya foundation, the film "mentai piriri" has been screened at movie theaters nationwide since January 18, 2019. This is a drama originally produced by TV West Japan as a drama commemorating the 55th anniversary of TV West in 2013, and was broadcast as a rare serial drama format as a local station production. It called a topic such as winning the Nippon Pacific Federation Federation Excellence Award, ATP Award Drama Category Encouragement Award, and Galaxy Award Encouragement Award. In 2015, the sequel "mentai piriri 2" was broadcasted, and then in 2015 "mentai piriri ~ Hakata za edition ~" was also put on stage.
The author also saw a movie version in late January. It was comfortable to the ear with only the familiar Hakata dialect from the beginning to the end, some scene to be moved to tears, and about 2 hours went by quickly.
In this movie, when Mentaiko developed by Toshio Kawahara had a hard time to sell little by little, counterfeit goods will be made and sold here and there, and you should apply for manufacturing patents to prevent imitations Toshio Kawahara gave a surprising recommendation, but Kawahara Toshio showed a heavy aspect of kicking it and teaching the competitors how to make the way to make it, the personable size of a human being of Toshio Kawahara is today's mentaiko It was drawn that it became the foundation of the industry development.
Thanks to Toshio Kawahara 's open attitude, merchants who make and sell mentaiko are born one after another, not only in Hakata but also in Kitakyushu and Shimonoseki. When the Sanyo Shinkansen extended to Hakata in 1975, it caught fire as Hakata souvenir demand, after that the mentaiko industry grew rapidly with the rising sunrise momentum.
In 1980, when the mentaiko industry had developed rapidly with great speed, the author who worked at a supermarket in Fukuoka City was in charge of the store's field merchandiser (FMD) and fresh fish director until that year . However, due to regular change of the spring in that year, I was appointed the headquarters merchandiser (MD). And at that time, there were times when I was doing the MD which was responsible for salt-dried goods, so at that time I was negotiating with various mentaiko manufacturers as MD.
The mentaiko manufacturer at that time, with the supermarket with big sales force, if there is a request for wholesale from the MD which has the purchasing authority of all shops, sales representatives of most mentaiko makers have carried favorable wholesale conditions. However, there was a company that did not shake the head straight in the wholesale request from here. It was "Fukuya". Fukuya is a company's policy of retailing myself without any wholesale of mentaiko, and at that time we also requested mentaiko's wholesale company, which the author, who was proud of top sales at Fukuoka and Kyushu supermarkets, He did not accept this at all.
Fukuya mentaiko who was the number one brand at the time, there were many companies that would like to put it in the store to appeal this mentaiko's merchandise. For that reason, there were stores that purchased mentaiko sold at the Fukuya store at the retail price, and displaying them with selling prices with little or no profit at that time.
On the other hand, some companies have expanded their sales channels to supermarkets nationwide by strengthening the wholesale business of mentaiko. Among the companies that I opened a trading account were not only a small factory like a shack but a great modern large factory, but also from Osaka, Tokyo, Tohoku, Hokkaido, even to Korea There are companies that made local factories and developed greatly. Then the mentaiko industry had become recognized as one of the food industry. Sales of mentaiko's manufacturing companies are now sales of over 10 billion yen, principal major manufacturers such as fukuya's 149 billion yen in 2015, 160 yen billion yen in kanefuku 2017, 11.2 billion yen in yamaya 2016, 13.5 billion yen in fukutaro 2016, and so on.
However, according to the recent household survey by the Ministry of Internal Affairs and Communications, the price per 100 g of mentaiko and tarako has fallen by around 25% since 2003. And instead of ipponmono including gifts, low price items called kireko and barako used for cooking and rice balls seem to be spreading.
Furthermore, although the amount purchased by mentaiko and taraco at home is solid, the decline in unit prices shadowed the industry as a whole, according to the estimate of the Teikoku Databank Fukuoka branch, the market size (amount basis) shrank by 34% in five years from 2005 did. And in December 2008, hakata marukita (Fukuoka city Nishi Ward), a mentaiko trader, famous for "hakata agootoshi" brand, applied for the civil rehabilitation law and now it has revived as an affiliate of Nissui , In addition to this, bankruptcy of Tokunaga (Fukuoka city Minami Ward) and Hiratsuka Menta child specialty store Co., Ltd. also went bankrupt and exerted a big influence on the mentaiko industry.
---
Production method of mentaiko
Well, I think that there are parts that I do not know because it seems to know what mentaiko was born in Japan 70 years ago, so let's review the whole image again.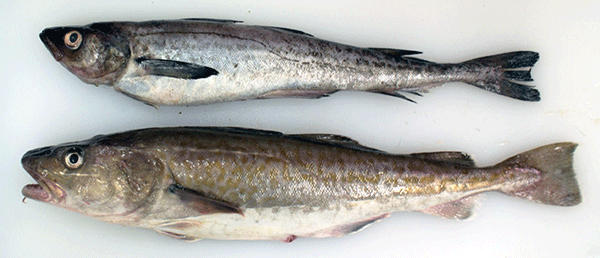 In the upper image, the upper fish is Alaska pollack and the lower is pacific cod. To compare and understand it, I arranged two fish species.
In South Korea it pronounces alaska pollack with myongte or mente, in China it is also called mintaiyui, even in part of Russia it is called mintai. The expression "mentaiko" is unique to Japan, and the original mentaiko means "child of alaska pollack", but today it is becoming popular as "mentaiko" to refer to mentaiko.
Alaska pollack eggs as a raw material of mentaiko are caught in the following sea areas and brought to Japan. They are caught by bottoming net fishing, piercing net fishing, longline fishing etc.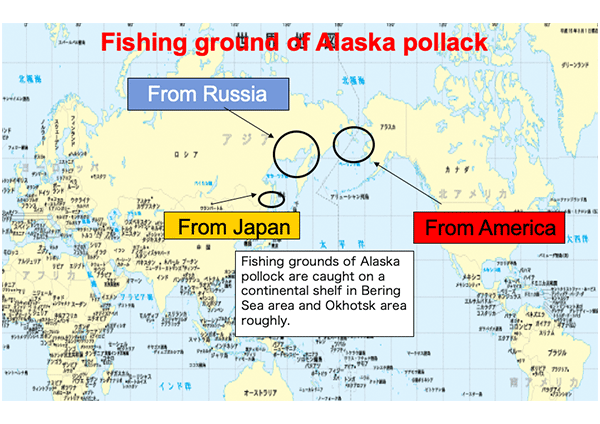 Alaska pollack eggs caught and brought to Japan are classified into three types, and the second mako of the following image is considered optimal for particle feeling, taste, etc. in manufacturing spicy mentaiko.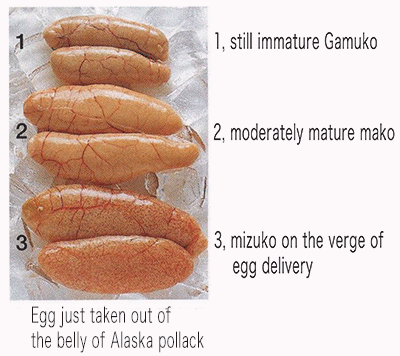 The timing when this state changes is summarized as follows.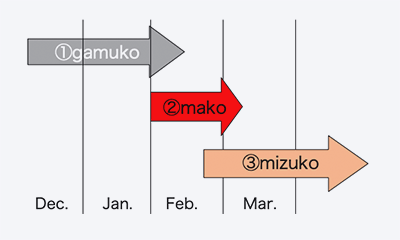 Most of them are raw materials purchased frozen from abroad, they are brought to the mentaiko manufacturing factory in the state of tarako and then processed to mentaiko.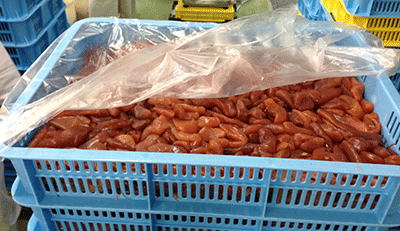 First of all, they go through the process of primary processing as follows.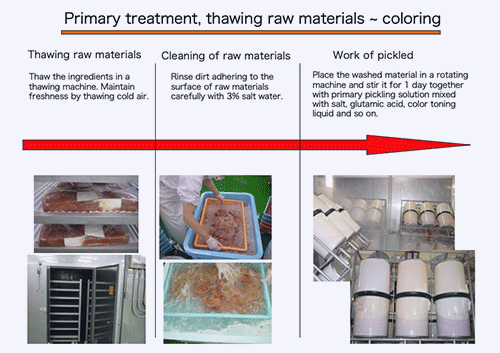 Next is the process of secondary treatment.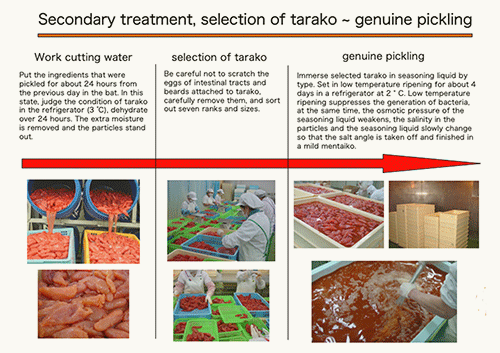 Finally the finishing process of tertiary treatment.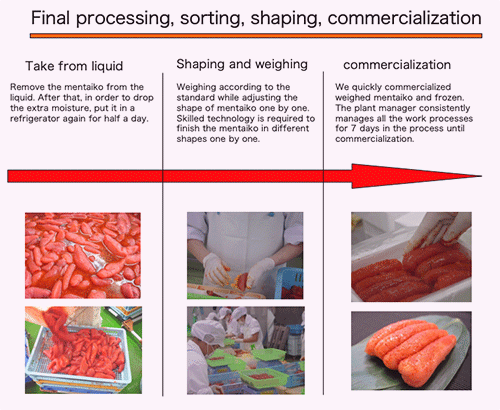 In manufacturing mentaiko, a lot of skilled personnel are put into this tertiary treatment process, and the majority of the processing expenses are costing labor costs in shaping work to match standards and weights. If we can sell business standards simplifying this work, it will lead to lowering the manufacturing cost as a maker, and it will be possible to lower the factory shipping price. However, there are hardly any companies that pack and sell business for small items at supermarket mentaiko's sales floor, and most companies sell already packed ones. I think whether there is a company to review this point.
---
Reason why coloring is necessary to make it look delicious
Well, will not every reader feel somewhat in the manufacturing process of mentaiko introduced so far? For example, at the manufacturing stage of mentaiko, there is no process to add heat, and we are eating raw fish eggs that have taken days to manufacture. But why have I thought that it would be safe without causing abdominal pain?
From a certain person in the growing season of the Mentaiko industry which Mentaiko started to sell more and more, although it is a long time ago, the author says, "Since raw food like Mentaiko is full of germs, I am uncomfortable and I can not eat," He has been told directly. Since I had only immature knowledge at the time, it is true that Mentaiko feels like a lot of germs, but I have the experience of having a question as to whether there is no problem by eating this.
About that, I solved it by studying myself later, which was confirmed in Fukuoka City Health and Public Health Institute and Kyushu University Graduate School of Agriculture Research in "Journal of Japanese Food and Microbiology Association" in 2005 Also published in the academic paper "Listeria monocytogenes in the process of production of mentaiko" in the journal paper. To that academic paper, it is concluded that mentaiko is produced at a temperature of 6 ° C. or lower using a seasoning liquid having a pH (hydrogen ion concentration in solution) of 5.9 or less and Aw (water activity) of 0.95 or less, It is announced that Listeria monocytogenes will decline even after the passage of time. This was an academic paper that proved that the multiplication of bacteria is suppressed due to multiple factors such as temperature, pH, Aw, osmotic pressure, etc. and the viable cell count decreases.
In other words, as long as mentaiko has cleared certain conditions, the viable count does not increase even after two weeks, so it is an academic proof that it is okay to eat raw mentaiko as it is.
There is also a mentaiko produced by putting sake and fermented alcohol in seasoning liquid, but this has a sterilization preservation effect, and capsaicin by red pepper also has bactericidal effect. Furthermore, sodium nitrite which has the effect of maintaining a stable color is contained in the seasoning liquid as a coloring agent, which suppresses the growth of various kinds of bacteria including botulinum and prevents the decay of meat products It is known as an additive with various effects.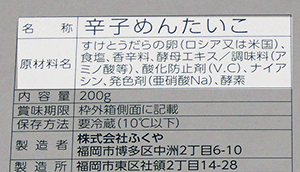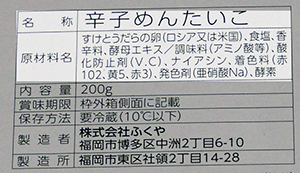 Non-colored type         Regular type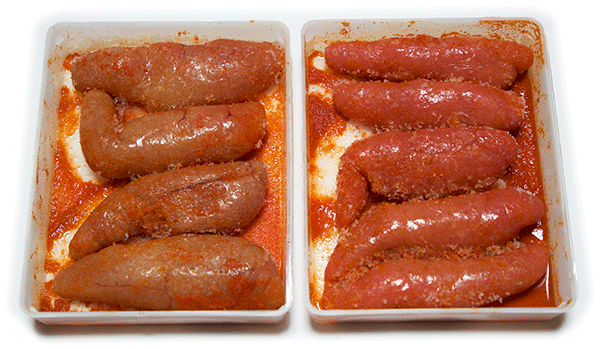 The Fukuya Mentaiko I bought was of two types, Regular type and Uncolored type, but both seals on the back of it have indication of coloring agent (Na Nitrite). In addition to this, the regular type also includes a coloring agent (red 102, yellow 5, red 3). Regular type indicates not only Na nitrite but also red color using pigment, and colorless type is not coloring by pigment, though it is coloring with Na nitrite Respectively.
If Mentaiko is commercialized without using sodium nitrite, it turns into a strange color like dull brown turned turbid over time and it is not an apparent food that people eat favorably. So at least using only sodium nitrite is not to be a mentaiko of an unpleasant color that does not appetite.
However, this sodium nitrite, when taken in excess, may react with amines and amides to produce carcinogenic substances. For this reason, the Food Sanitation Law stipulates that "it should not contain more than 5 mg of nitrite root per 1 kg of tarako product", and the minimum safety measures are taken care of at the moment.
---
The taste of mentaiko
In this way, it is important for food to appease human beings. For this reason I think that mentaiko understood that sodium nitrite was used as a coloring agent to improve the color. In addition to this, there are things that must be missing as a factor to eat mentaiko and to make it delicious. When it comes to mentaiko it is important to feel "puchi puchi" as a particle that can be played.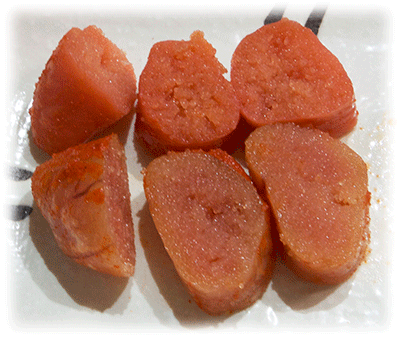 It is regular type on the upper side and uncolored type on the lower side, and even if you look at the cross section, you can see the particle feeling a bit.
This particle feeling does not exist from the stage of fish eggs purchased, but rather it is technically produced in the process of Mentaiko. As basic technology, chemically utilizing osmotic pressure effect, it can be expressed simply as "technology to swell particles" in a nutshell. When expressing this further, it is not a mistake to think that tarako of the original material stage swells when mentaiko is finished as a product, and when it becomes mentaiko, the weight increases and becomes larger.
Of course, the particle feeling is greatly influenced by tarako's raw material,gamuko, mako, or mizuko. Also it seems that it depends greatly on the way of handling and the finished state at the stage of mentaiko manufacture, depending on whether it is imported frozen tarako from America or Russia or cold storage tarako in the sea near Hokkaido.
What I do not want to misunderstand here is that imported frozen fish eggs are useless and it does not mean that the grainy feeling comes only if it is a nearby Japanese refrigerated fish egg, it is enough for imported frozen fish eggs. However, it is important that the optimal state as mentaiko is also mako, and it seems difficult to get a particle feeling with immature gamuko, mizuko on the verge of release. However gamuko and mizuko are cheap in raw material prices, so cheap mentaiko with no texture using these bad products exists in the world.
Each mentaiko manufacturer is developing its own color such as yuzu taste, kelp taste, fish sauce, etc. Also trying to differentiate sales method by manufacturing method such as length of pickling time into seasoning liquid etc. However, as a basis, the particle feeling is the most important requirement of the taste of mentaiko.
---
Mentaiko's grade
Mentaiko is not only a decent form of ipponmono but also various forms of certain things come out at the manufacturing stage, and it is sorting to grade according to that form. Step main sorting is as follows in FIG.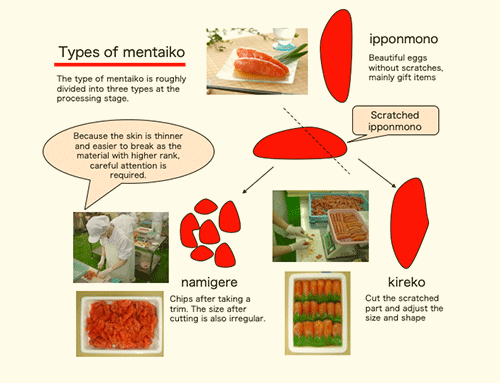 Although not expressed here, there are also mentaiko which is called barako and does not form as a fish egg almost. And now this low grade barako is being sold for being popular in mentaiko dishes such as "mentai pasta".
Mentaiko 's selling point at the food supermarket fish shop is now kireko which does not shape close to barako and kireko of ordinary quality grade. Recently it is becoming possible to sell ordire quality grade kireko rather than upper grade kireko, so the unit cost of mentaiko will go down and the sales of mentaiko as a whole will also decline. As a result, the sales of the mentaiko industry itself has become sluggish.
This has mainly strengthened sales of kuzukireko and barako which supermarket fish shops which sold the popular price items of mentaiko at the forefront, high customer needs, can be cheap. As a result, it is believed that getting involved in the negative spiral phenomenon, which is a decrease in sales due to lower unit prices, is the main cause of sluggish sales.
The author has been involved in the sales of mentaiko since the mentaiko industry is still in the developing stage. And I am struggling to the mentaiko industry as it is, as Gateham Gresham, who served as British royal treasurer, "Bad money drives out good money".
As for mentaiko, there is simplicity that any business can start business at any time as long as it is concerned. So far so many mentaiko makers have been born and disappeared. And, for example, as one bad example, such a disappearing manufacturer injected barako using instruments into immature gamuko and sold "cyunyuko" which looks like ipponmono was also a past company existed. And actually there are products that resemble it.
Mentaiko who was originally founded by Fukuya had sold "hitohara" in units of how many. This is because fish eggs are in the form of "one hitohara in two," which was the lowest sales unit. As a concrete example, I think that you should use tarako, but since there is no suitable image, the image of eggs of mullet before processing to karasumi is shown below as an easy example.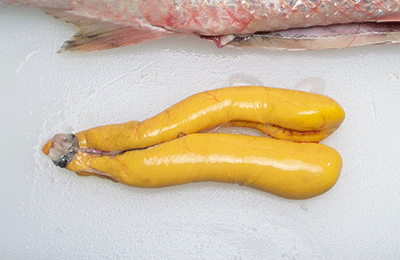 Even when Fukuya started selling mentaiko from hitohara unit for 70 years ago, basically there were no eggs of the same size, probably it was presumed that the size was properly aligned and it was sold separately for large, medium and small.
However, how about now, do you think that readers are something strange that the packed mentaiko is sold in units of 80 g, 100 g, 120 g, etc.? Although it is supposed to be a very difficult task itself to make hitohara as such a small unit, it is possible because it is "forcibly adjusting the size".
Mentaiko packed at the manufacturer stage is basically in the form of hitohara, but it is only form. The original natural shape of mentaiko has a distorted circular shape, so it is normal to have a cross section similar to a quadrangle. Although I do not issue a company name here as a concrete example, none of the mentaiko packed by one manufacturer has a round circular cross section that is stunning. They are not very natural shapes, but they are made to feel a very artificial feature, which is almost certain to be seen as "cyunyuko" which injected barako into kawako and gamuko.
It seems that mentaiko makers who have done such unnatural things still exist and have increased their sales to sell as cheap but I think that tit for tat of deceitful business is coming to the present mentaiko industry.
---
Let's revive the mentaiko of the in-store pack
In the fish egg section of the super fish shop, in many cases, I hear the cry of mentality that mentaiko is not selling. First of all, it should reflect on the fact that the seller had problems with mentaiko packed by the manufacturer, not checking the quality and taste, but simply trying to raise the sales with only the price.
Actually, at supermarket, there is amazing fact that it is never rare that salt officials selling mentaiko do not know the taste of menntaiko they are in charge of sales. I also want you to know that it is a far-reaching cause of mentaiko's sales decline in half-heartedness against such work.
Although low-priced items such as kireko are high in customer's need from the viewpoint of inexpensiveness, when compared with decent form hitohara mentaiko, kireko like a waste whose shape is largely broken does not appetite very much . There are also unnatural forms of mentaiko with artificial work and there must be some scary things if you follow that feature, how about stopping selling mentaiko that gives priority to such cheapness soon.
It is considered difficult to expand sales ahead as merely relying on mentaiko's proposal by the manufacturer. In the fresh fish division, like common sense to make sashimi, sushi and fillets in store, I would like you to develop original products with in store operation.
For example, as mentioned above, when manufacturing mentaiko, the majority of processing costs are involved in shaping work to fit standards and weights. By simplifying this high cost work, only performing egg quality selection to exclude gamuko, mizuko, etc., from ipponmono to namikiri, putting them together in a box without size selection reduces costs It is good if you purchase business specifications such as the image below from the mentaiko maker.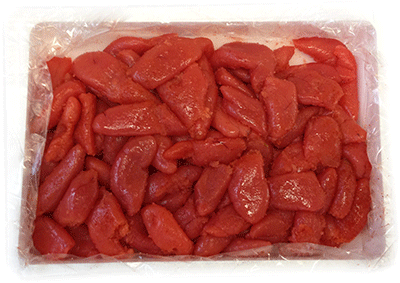 And if you commercialize these as shown in the image below, the purchase price is suppressed, the selling price can be lowered because it is cheap, and because it is a standard not found anywhere, there is no competition with selling price or quality. Mentaiko which can differentiate as its own product of only that shop can develop independently by the shop.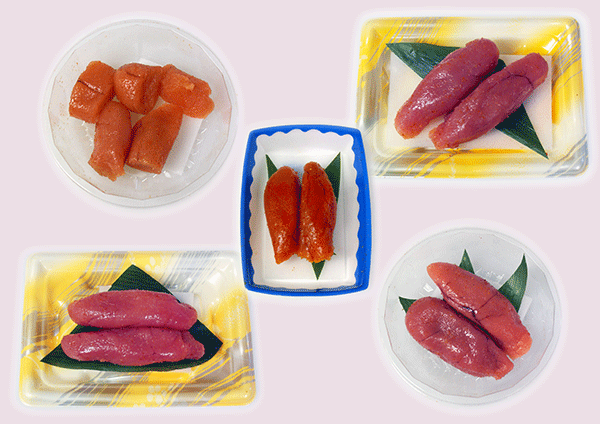 Since this purchase form is basically an unselected standard, if you sort by three or two kinds such as namikire, jyokire, ipponmono at a store, set the selling price matching the grade and mix it in value, namikire is cheap It can also be a selling price. Then, mentaiko price competitiveness should come out.
Salt dried goods do not raise sales when doing an easy job of sticking a seal on packed ones. The reason why the sales of fishery department including Shiroyu products group does not rise is brought about by the negligent attitude of how to ease fish business and make fish business under the words of efficiency, rationalization, labor saving. Again, we should review the business that made the best use of the advantages of in-store, and for this I think that the posture of "to fag oneself to death" which is the origin of the merchant is necessary for the current fisheries department.
---
---
An opinion and the communication are to iinfo@fish food times

Date of updating 1 Feb. 2019