---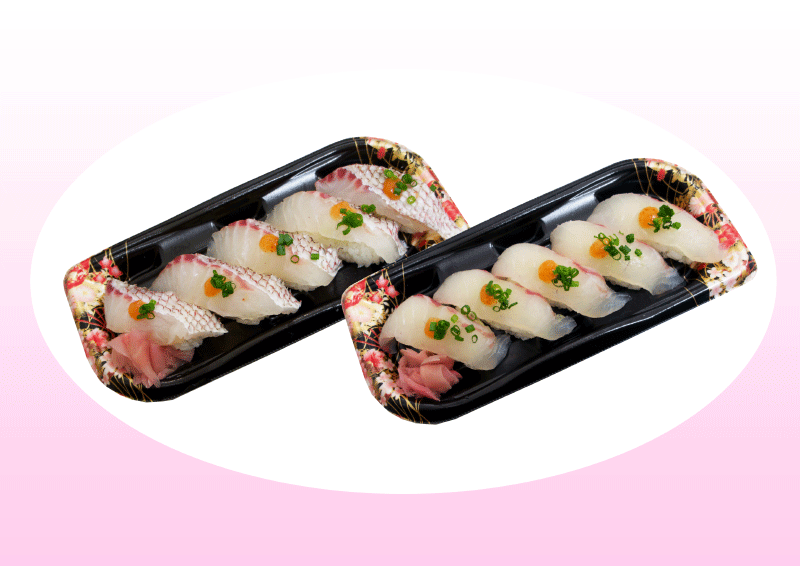 Red sea bream nigiri sushi
---
Market trading price of the Red sea bream is has continued to stagnation long over for more than one year.
Really in for now market, 1.5‡s ones optimal size in live fish is 900 yen / kg, 1 kg ones at 700 yen / kg, the following size 800g that was postmortem rigidity, and because the available at 500 yen / kg before and after is followed by a cheap rate.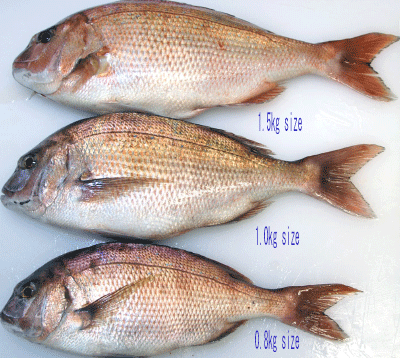 Although production planning of aquaculture Red sea bream until 2008 was about 50 million fish per year, 2009 is to be the plan to 4,210 ten thousand fish is greatly reduced, and even in 2010 it was reduced to 4,078 ten thousand fish, 2011 year 4,069 ten thousand fish, the 2012 and so on 4,069 ten thousand fish, plan of up to around 2012, if anything, was in the trend of reduced production.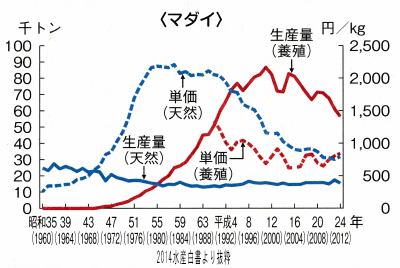 However, annual production plan an increase to 4,198 ten thousand fish in 2013, 2014 further expanded 4,358 ten thousand fish, production planning of aquaculture red sea bream since 2013, and to reverse the rise until 2012 has changed.
South Korea that is the main export destination from Japan in the same period farming red sea bream, it means that the collapse is receiving balance overlap also began to hold off the import the relationship worse as the main factor with Japan, later farmed red sea bream domestic market is the began to change into a downward trend.

The bar chart on which are written in 2014 fisheries white paper, both of total production and the total production value of red sea bream, the proportion of aquaculture has shown that accounted for nearly 80%, even in quantitative aspect also in the monetary aspects, if you are tells us that high specific gravity of overwhelmingly aquaculture red sea bream, red sea bream of price leadership have shown that clearly aquaculture thing is holding.
As with other cultured fishes, aquaculture red sea bream is the number of management company of aquaculture is shakeout, while the left view of a lower that is decreasing indicates, through the efforts and improved management efficiency, and one management company that the aquaculture production value of each has been higher than previously, I can be seen in the right graph below.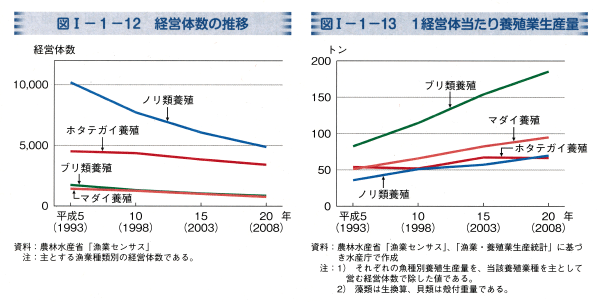 In other words, the can be inferred from this graph, through since 2013 in 2014, it is shakeout in the competition, production efficiency of surviving excellent each aquaculture management company that has been up, production increases than the amount that had been planned, as a result it becomes to be higher than the amount of demand to increase the amount of stock in the market, it is of such aspects may be considered as the transaction rate is lowered.
---
Well, this way aquaculture red sea bream that prices are cheaper when compared to the old days, is a broad basic merchandise of leverage range in the fisheries sector, and commercialized by utilizing such low price to the "a variety of SKU" and if we cook proposed to customers should lead to sales.
However, the fact that still continues to aquaculture red sea bream is low price, because the store of fish department personnel have not been utilized to increase sales doing so much aggressive suppliers, even if the price is cheaper, handling amount it does not increase, rate of aquaculture red sea bream is seems to have become that does not rise absolutely.
Possibly, the posture of the shop of the person responsible and the commodity department buyers, is only using the cheap price of aquaculture red sea bream as benefits to profits, doing the amount by cheap selling price of red sea bream, sales of fisheries department it is not that also can not be considered that this is that hardly utilized in terms of increase.
In situations where each fish species of imports has been steadily rise in the influence of the weak yen, because he is followed by aquaculture red sea bream is low price as this domestic, I want you to sell firmly farmed red sea bream by multiplying this opportunity in the fish department .
Fish that red sea bream is a representative of the fish in Japan, is a basic fish species must-have for the fisheries department. The red sea bream is a fish that has been well known since ancient times, and 2 as avoid mention of such that knowledge, in this issue to taken up content that specializes in sales side as an article, red sea bream is the most delicious in the year the period from around Februaly to around April, I want to noted below in things like a hint for you to able to put a force on the sale of red sea bream in the store site.(It should be noted that the following product image I have placed in the text, as well as the past issues, the 100% is a work that was created at the hands of my own)
---
In Intro image I have taken up the "red sea bream nigiri sushi". This not only those common to cut the sushi neta by removing the peel, peel and in the Yushimo to arrange this next thing that was the sushi neta, introduced as these products were topped with Momijioroshi and chopped green onion have.
They have proposed that they eat with the both ponzu sauce, but Yushimo nigiri sushi products of the left image, one such effort, even somewhat cumbersome, is become a point to eat delicious red sea bream.
Flavor components of the fish there are many in the portion of the fat layer between the peel and the body. Method of Yushimo that will eat confine all of these is a method that can be eaten more delicious than ordinary nigiri sushi having removed the peel.
Of course, this is delicious also of that Yushimo of sashimi as well as nigiri sushi.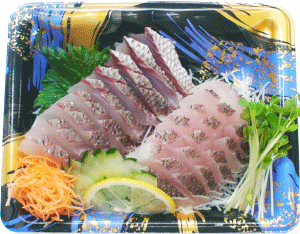 @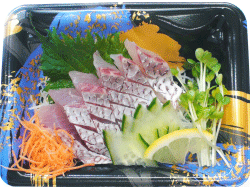 Above image is an example of the aquaculture red sea bream of 1.2‡s size, 1 pack 680 yen in the dorsal of the portion, and I tried to commercialization in the selling price of one pack 380 yen in the abdominal only.
This would be innocuous lines as Yushimo sashimi products to make an ordinary red sea bream.
However, now that the purchase price is suppressed cheap, and not in such a volume, the commercialization of in half the body, such as in the following image using a similar size, reasonably attractive selling price that around 680 yen to 780 yen presentation can be.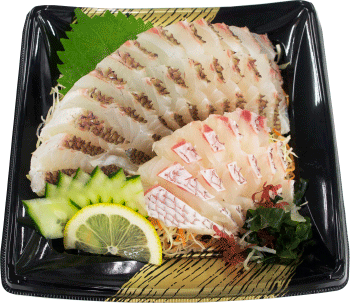 As in the previous tanzaku the following image you want to sashimi, would be better if you commercialized as yushimo tanzaku In separate only the dorsal of the body and abdominal.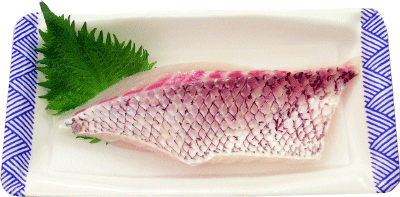 Also, instead of to yushimo, peel remaining after the sashimi and nigiri sushi having removed the peel also can be a product such as follows.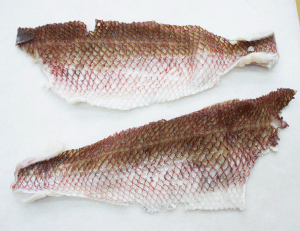 First, put the peel in hot water, and the cooled it with ice water, take the last lightly moisture.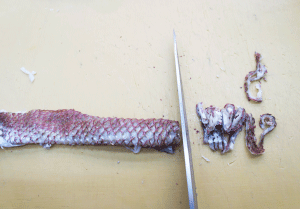 Rounded the peel that was in the yushimo vertically, and chop thin this.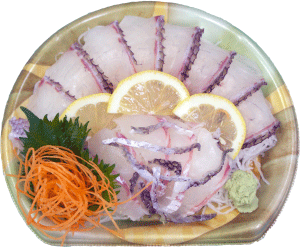 @@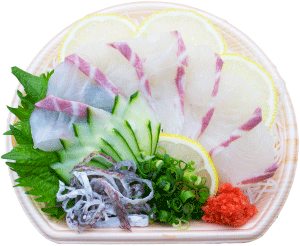 This as two of the image above, they may be served with in the sashimi as "ahirai",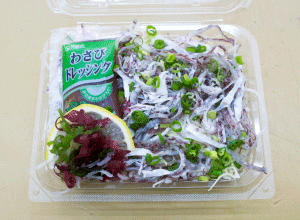 As the image, the dressing sachet is added in salad sense, it would be provided as the sole product.
---
Up to this point, has been to introduce products using techniques to eat delicious skins red sea bream a way that Yushimo should align peel also matter of course goods products were removed as of course the image below.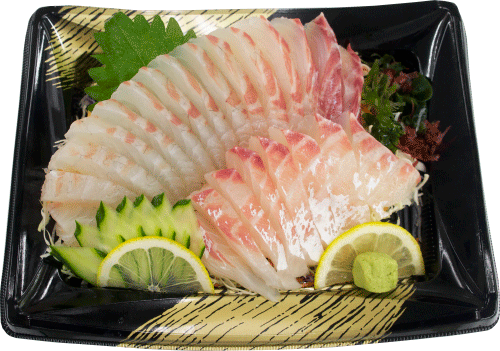 This was also the aquaculture red sea bream of about 1.2‡s commercialized using half the body. Because selling price can be presented without difficulty at around 680 yen to 780 yen selling price, customers the sense of volume to match the needs should get to feel very attractive.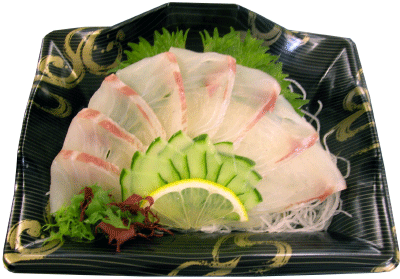 @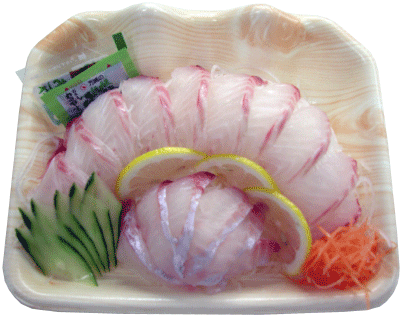 | Fan-shaped usutukuri sashimi | Bavarois-like Sogitukuri sashimi |
| --- | --- |
Left image above is a fan of sashimi of usutukuri, material because no use only a maximum from a minimum of 80g about 100g, even including the tray and ashirai other materials costs and should be about 250 yen. So this is the selling price of less than 500 yen is sufficient possible, also becomes possible products if if 298 yen to 398 yen of selling price to strongly sell if.
Top right of the image is than was dished to the volume enough feeling in the technique of sogitukuri, this is a "bavarois-like form" products that I named. This only because the volume is material within 150g even in appearance, depending on purchase price is possible selling price of 398 yen to 498 yen.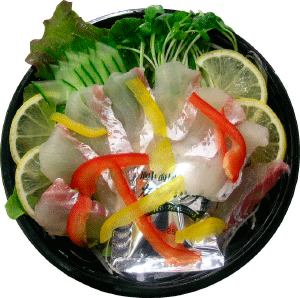 @@@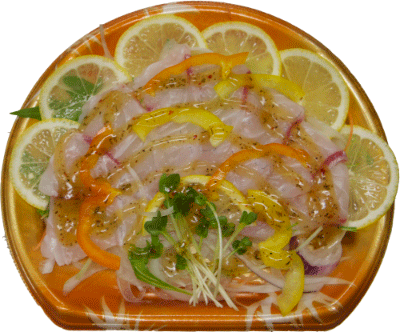 | Usutukuri seafood salad | Sogitukuri seafood salad |
| --- | --- |
And then, two images of the above as it was proposed red sea bream as salad, etc. have been laid onion under the fish slices, topped it carved paprika on top, cucumber, lemon, radish sprouts, etc. as appropriate are arranged.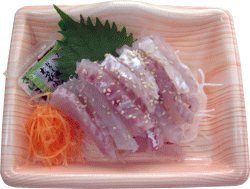 In addition to seasonal What about products such as such "for rice with green tea of red sea bream." This is cut into longer the only end that hard to put a form in sashimi and sushi items, not take time and effort and because only to goods by collecting this.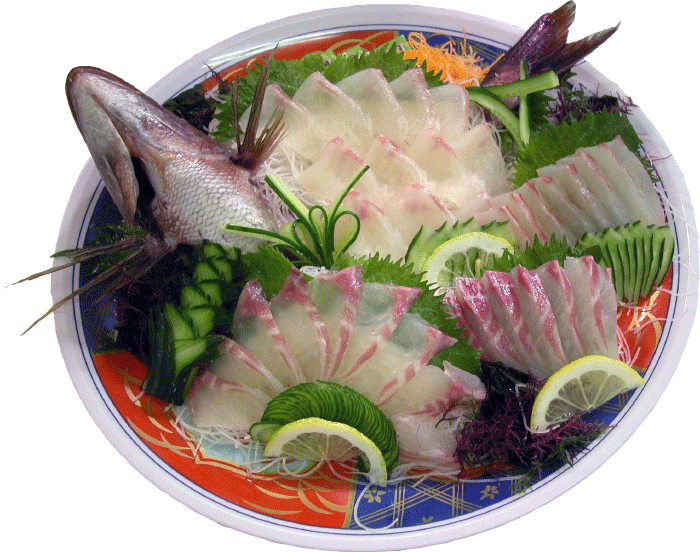 And the ultimate in sashimi products of red sea bream is "Fish figure sashimi of red sea bream".
Fish figure sashimi Depending on the application, the appropriate size to be sold in the store should around 1kg. This image is also using the size of much that, it is not impossible nowadays to get a purchase price of one fish worth in about 700 yen.
Although it is very impossible to that selling price 980 yen, rather than it is possible to not selling price if 1,280 yen, customers who buy very glad if the following selling price 1,500 yen seems to be not a few.
If quoted market now aquaculture red sea bream, because this trick also he not a reckless, there is no choice but to say that thing Mottainai of that not point the really the eyes on merchandise that now farmed red sea bream.
---
Well in the end, it was also mentioned in the fillet of red sea bream, and trying to end this month issue that has become longer.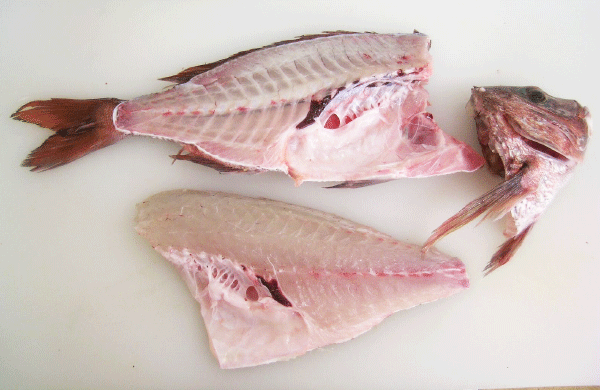 When you remove the head of red sea bream, uwami is "kiriotoshi technique", sitami is a way of "tasukiotoshi technique", to two dismantling after removing the head in a slightly irregular way.

Bone-in half-length of which was dismantled in two sheets, cut as above image for the fillets goods.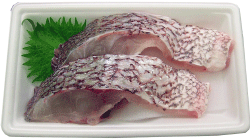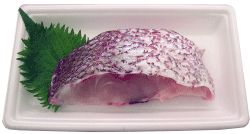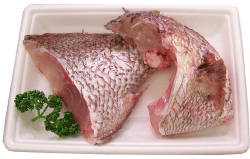 | 2 slices of bone with fillets@¥ 480 | 1slices of bone with fillets@¥ 280 | 2slices of bone with fillets@¥ 358 |
| --- | --- | --- |
This as shown in the above image, I will be the products that identify each of the commercial value.
2 piece pack of leftmost basic items, 1 slice thickness cut of value-added products in the middle, the right end of the commodity because it is fillets of sites that contain less unpopular right end of the tail section and left sickle, this is bargain .
And next is the commercialization of pot for cooking.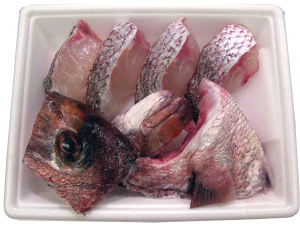 @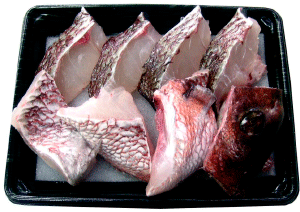 Above image was the commercialization of pot for cooking in separate fish. Left is the head and sickled of portion containing without abdomen body, right in the fillets containing the abdomen, has become a sickled of portion and head portion containing.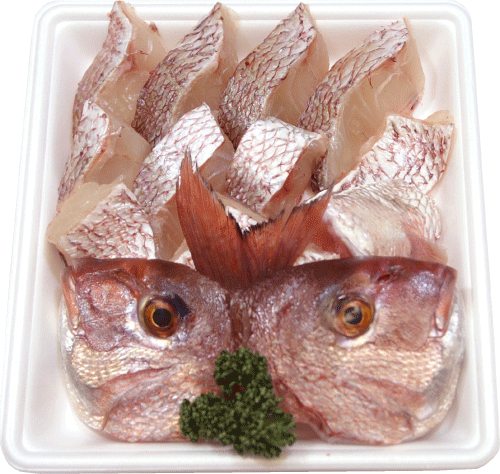 Normally are those by the size of the fish in the red sea bream, we will determine the quantity of small pack. However, when from now the market of aquaculture red sea bream, depending also purchase price products with volume such as this image, for example of the ultra-affordable, such as was not impossible so far as a product of red sea bream fillets of 580 yen to 680 yen commodity it is not that it can not.
---
Thus the bone-half body the above-described form product development in, but for the remaining boneless half-body is assumed to be used for essentially sashimi, and also forget to the fillets without bone become not.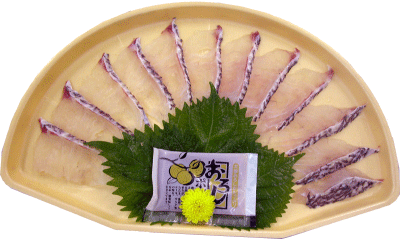 This image is a fillet products for "red sea bream shabu shabu pot".
Furthermore, he is also products for fly, but this is the monthly magazine to be released on February 14 (Saturday) "food commercial March issue", the image of "red sea bream boneless Three slices of 580 yen for the fly" is author I wrote were placed article. Readers want you refer to us reading the more of this article.
---
Is this month's issue has become be referred at length so far. This fish that say what red sea bream is fish of "basic" in the fisheries sector, but because they think important fish over that product development is also diverse.
That have been red sea bream in Japan, to refer to have been buying and selling at a very cheap deal price in the domestic market, in fisheries department officials not too much attention to the red sea bream of domestic, it is higher under the influence of such weaker yen to have attention only to fish exotic, that's the form that you have to fret over the vertical movement of the purchase price, seems like the viewpoint to look at something things is deviated slightly.
In food commercial February issue of the sale now, I wrote as follows.
Originally of that imported fish is coming from abroad, it is, but it should was attractive and cheap even in frozen, if you and this is a situation that it is difficult to sell soaring in reverse, around here at once to domestic raw fish it would be if towards the eyes. In fact in Japan, the evaluation of a delicious part of the fish market is low, therefore cheapness of unfair prices in freshness preeminent, he raw fish that has been left abandoned from stakeholders lying purring. There is no knowledge of the fish, do not know even fish taste, do not know the fish way of cooking, and non-study employees of fish department who does not know anything about fish are selling the fish. So I wonder anyone in the fish department is not than do not only lined fish know in common. Review the domestic raw fish, and if we focus on taking advantage of a great deal, of that raw fish should notice that it is the source of profit "goldmine"
Author of think that wrote here, the same kind of thing is the is true for this time is taken up was farmed red sea bream.
Now the fish department officials is necessary that "to reconsider the phenomenon of more feet".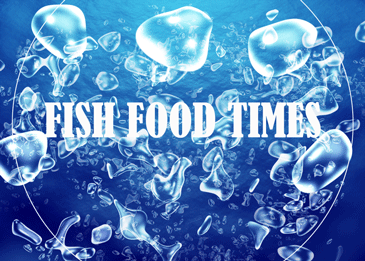 Date of updating
Feb.1, 2015
---

---
Food commerce contribution sentence
Food commerce contribution sentence (foregoing volume)
---
An opinion and the communication are to
info@fish food times
---