Welcome to FISH FOOD TIMES
---
Nov. 2015 issue No.143-2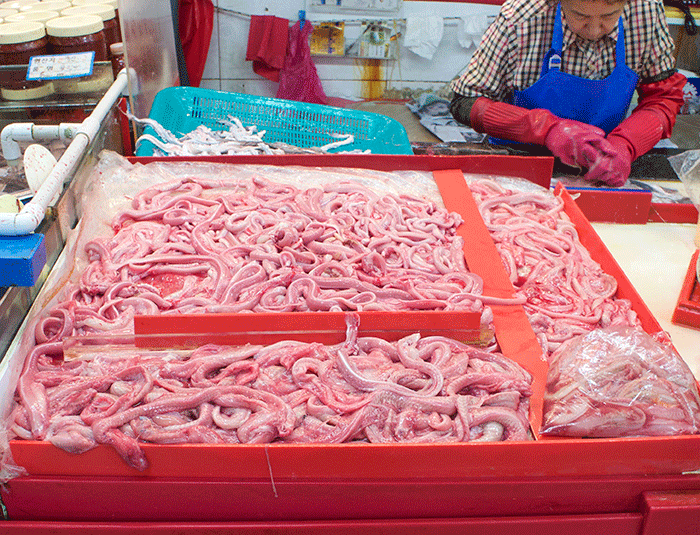 Difference in the fish meal across the sea
---
Well, it is a Busan of the second day South Korea, the first day in Busan has unexpected surprise, it was in a half-day harvest was great.
It 's airplane of return time late 18:00 departure of the second day, move or leave Given the time of the procedure is considered only until virtually 3:00 pm is not allowed action, visit places Busan northeast of downtown west face (Somyon) visit a large Kamata (Pujon) market, which is traditionally the district, it was to touching the Korean food culture, including the other ingredients not just fish.
Near subway seomyeon station has a variety of modern building lined, there is a big wide underground shopping mall, there was exudes the appearance of modern city. On the other hand, the center Kamata market in is present in old-fashioned form intricate maze, this huge market is not a subject of fish as Jagalchi market, vegetables fruits, meat, until the fish and household goods if you are gathered, exactly what it was the taste, such as the kitchen of Busan citizens.
The toured, while around the inside of this Kamata market round and round, I tried to think my own things that Korean fish-eating culture.
And it was seemed as if not the eating habits of the original "eat raw fish" in Korea did not exist.
In what recently, influence of "sashimi culture" from Japan, such as by the emergence of live fish aquarium, but may have more opportunities to eat raw fish, just like in the "dishes and bake the fish," originally a meat it was the thought that probably was the main fish cuisine.
So it's thought, as in the below image, "dried fish" has been very fulfilling in Korea, it has sold the dried fish everywhere at Kamata market not only Jagalchi market, a long time ago was dried it was seemed to have to eat with baked fish was the main eating.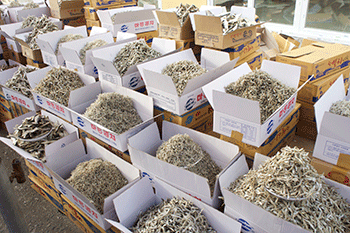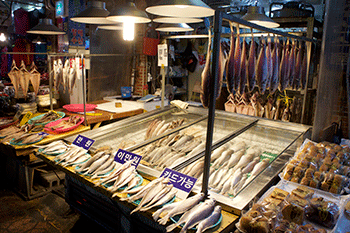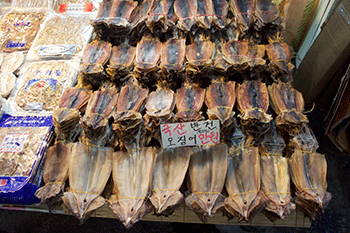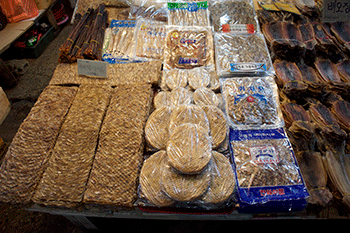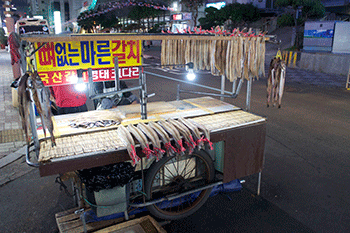 Also as in the bottom of the image, which was to golden brown color and well grilled fish have been sold everywhere, grilled fish seemed to have firmly taken root as a food culture in this way.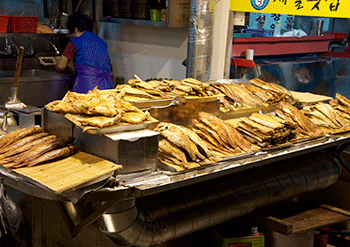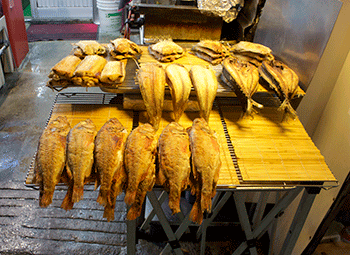 And in recent years, with the advent of dragnet fishing vessels, as a result of frozen fish have been enhanced, stretched out thawing fish share of freezing of a stage prior to dry the fish, the presence of dried fish is not to have come to lean than beforeIt considered whether.
In Busan Jagalchi fish market next to the wharf, there is a thing that is reminiscent of the previous base landscape of dragnet fishing boats, such as Hakata and Shimonoseki in western Japan as the image below, this landscape was somehow was author to the nostalgic think .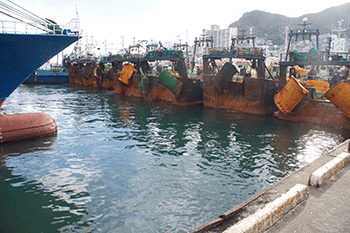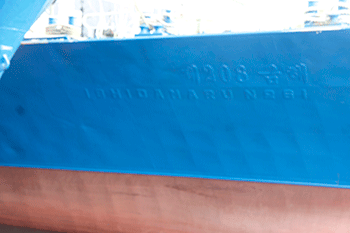 | Many of dragnet fishing boats are lined up a lot | Former Japanese fishing boat "ISHIDAMARU" is visible under the paint |
| --- | --- |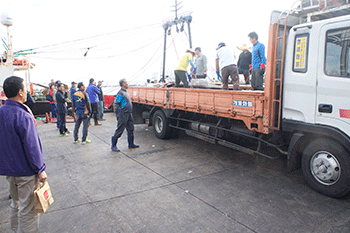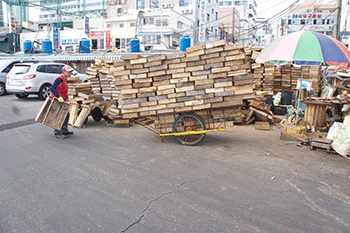 | Nostalgic landscape that is landed from dragnet fishing boat | Toro wooden box now in Japan, which has become rare presence |
| --- | --- |
From this landscape, mainly of fish to be landed in Busan it is estimated it is "dragnet of fish," even now.Aunty who are selling the fish in stalls proudly in front of the customer, the frozen fish of undertow ship is peeled off using such knives in the previous, still it remains paranoid it, because they sell side by side on top of the dish is there. Since time is thawed enough time, but he never does not look well as fresh fish, the basic is the only just almost freeze-thaw fish.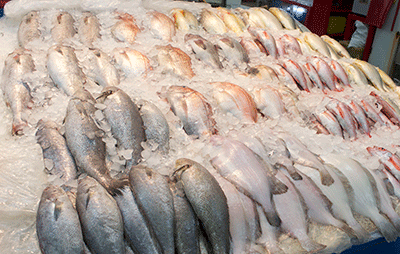 The fish that was noticeable in Busan South Korea, such as in the above image, was such as croaker and White flower croaker. These are also's a fish species that still dragnet fishing is good at. The other Eellowback sea-bream, Round-nose flounder, doederleinia berycoides, monkfish, John dory, cutlass fish, but was noticeable even fish, and so was that of both have in common is this is the dragnet vessels.
Even so, in Kamata market, with There are really a lot of Street Markets and many of the Aunty who engaged in peddler, as shown in the following image, the fish thawed of dragnet boat, it is a scene that is sold at a little hygienic in your cold method noticeable. But South Korean health authorities seemed to acquiesce that the Aunty who is living desperately. As the Japanese authorities, in that you have to not posture a lead-out to every time a fine thing, I felt a little excitement.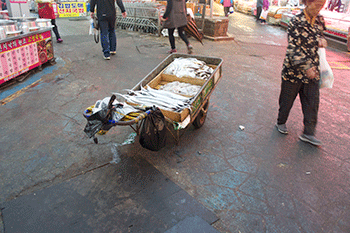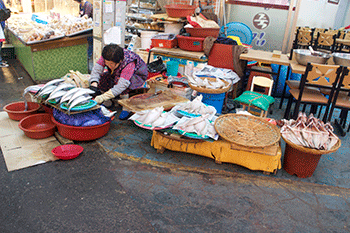 ---
And as the second day last conclusion, afternoon in returns to Jagalchi market, in the "oddball of the story" as of yesterday without, the second day I thought let's eat something a little decent.
In the Tsushima that I have visited in the monthly work, there is excellent conger eel called "golden conger" as caught in the Tsushima Strait west water. Because the taste knew that this is the exceptional, in the proximity of the location of Busan that sometimes Busan of mountains can be seen from the land of the Tsushima of the northern end, whether conger have any way to eat , and it is wanted to know if delicious whether.
The author is going back and forth through the streets that are lined up even through the Street Markets and stalls several times from the previous day, went into the shop conger of most live fish aquarium is remarkable in that. And in good likely Aunty to remember freshly Korean personality "Chan'o, Chuseyo" and say, came back suddenly answer that "30,000 won." Since 1 fish 3,000 yen thought high, was expressed as good than small in gestures. However, since the Aunty was not me understand the meaning, it repeated the "small, small" in English. Then Aunty was replaced by brought young people, such as the son from inside the store. I negotiate in English begins between with him, was at last I came to be told somehow that want their say.
I tell and want to eat him also grilled fish of hairtail, negotiation of 30,000 won in conger eel and Hairtail included one set was was established.
Since beer two also I asked, payment but was total 35,000 won, and finally it was was happy to have a well eat the main road of Korean food culture.
Under the left image is the one person of the set, including the grilled fish of hairtail, it is right has been issued after "grilled of conger eel."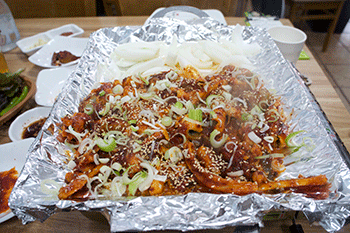 Hairtail not necessarily have been a particularly spicy seasoning, because it was felt that the lightly shaken salt, taste of the elegant white of hairtail was able to enjoy fully.
But conger eel is was put chopsticks in first mistake is to open it seemed bone in exiting the body, the teeth of the author will hit the hard bone, I've been a little sore think. It may be delicious if burnt firm also bone in the conger eel, but still hard bone that does not pass through the fire, it was was gone suddenly thought, "What is this!".
Then and proceed with grilled on an iron plate, soft body of conger eel has come to be eaten deliciously rounded and in a huff. But also in the same way too taste of pepper strength yesterday of Komujan'o, after all the author it was the was over to remain not know because delicate taste of sea eel.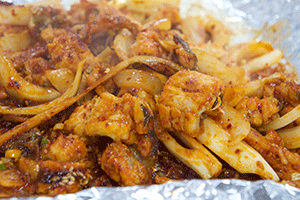 ---
Well, soon "walk to see Busan, South Korea of fish circumstances" is also trying to end.
Although it was only for two days, is a country that has been wanted South Korea to go to once from previously a had been a "close and distant country" for the author, it is a at last feeling it was clear one of the challenges to achieve .
About three years ago in Tsushima I started to go to work every month, many of Korean tourists was that knew the first time that visited there. Then that South Korea, which is in the other side of the distance of the sea that really said that front the eyes abroad, is what kind of place a wonder I think that had recruited more and more.
This is because I also he was able to learn some things Korea, I thought that it might be the will be able to take advantage of the knowledge of South Korea, even on the job in the future.
Even in the short time of stay as of this time, experience touching the foreign food culture it was once again felt two days that's what stimulus for me there are a wide variety.
If there is a chance, I also want to visit the next unknown country.
---
---
An opinion and the communication are to iinfo@fish food times

Date of updating Nov.1, 2015