Welcome to FISH FOOD TIMES
---
Nov. 2018 issue No.179-1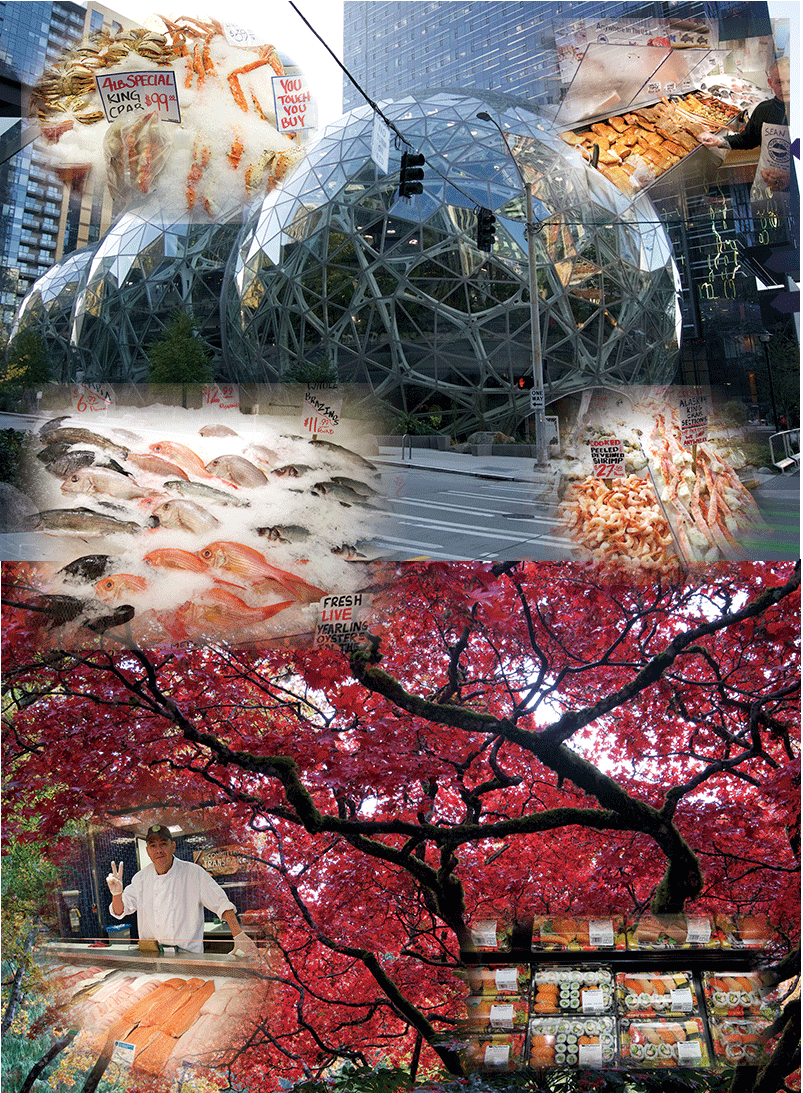 Growing com. change the future of Seattle
---
Luggage does not come out ...!
In this year's "Overseas fish circumstances" are Seattle and Vancouver which exist adjacent to each other across the border, north of the North American Continent.
I arrived in Vancouver from Narita on Saturday, October 20, arriving around 11:20 on the 20th Saturday nine hours after departure from Narita, almost on time. But Alaska Airlines flight to Seattle departed at 15 o'clock one hour and 15 minutes behind schedule. One hour late was like an atmosphere like everyday, neither the ground staff nor the CA got anything worse. I thought that it would be unavoidable to worry about this, since the delay is natural in a foreign country, but it was serious since I arrived in Seattle.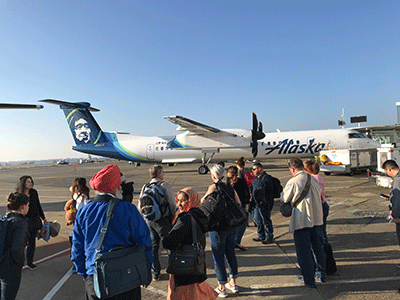 Alaska Air after Arrival in Seattle
I went to the side of the turntable at Seattle Airport which arrived late for more than an hour to receive the suitcase that I had at the Narita airport. However, no matter how long we waited, my wife's suitcase came out of there. So when I went to the place of Alaska Air's claim processing response staff, about 20 people were queuing up waiting there.
When I returned from Miami to New York by American Airlines in 2007 in 11 years ago, one of two checked baggage was missing as well. At that time we only told the complaint, with the next flight one and half hours later my baggage came back and had experience without anything. So, "I thought that the same thing happened again ..."
However, at Seattle Airport, I do not know if it is a passenger of the same flight, but there are more than 20 people who interact with "where did my baggage go ...?" I had a hard time turning around to us. Finally it became the order to listen to our complaints, but we can not fully understand what we are saying to each other. And within this day it was impossible to hand over the missing baggage directly to us, and we decided to bring the luggage to the hotel. After all, when we returned to the hotel the evening the following day, the baggage was put in the room, but my wife lasted almost 2 days, no cosmetic tools and changed clothes, and it was great inconvenience.
I thought that it was a dishonest company without any words of apology from Alaska Air. However, unlike Japan, I heard that Western society basically does not accept its responsibility on its own if there is not much problem. Regarding work as well, if the division of "It is your responsibility but it is not your responsibility so far" is clear, and you do not immediately know who made the mistake this time, everyone apologizes for themselves It does not seem to do. I do not mind understanding from the sense of the Japanese people, but I had no choice but to give up whether foreign countries are so.
And from this one thing, I was worried about the future of this trip. The reason I thought so was that when I went to Florence from Piazza by flight from Italy in October last year, I made a violation in the no-entry area of the historic landscape preservation area called ZTL zone in the city of Florence. And in mid-October, just before the departure of the trip, Italy's invoice came from Italy for a traffic infringement amount of € 125. There was a mechanism to discount payment if it was within 5 days, and it was a timing when I just paid € 89.
Until now my journey in a foreign country has been continuing the style of borrowing rental cars to move around freely except for "a country where driving of foreigners is not prohibited or recommended", but I decided not to rent a car from this trip did. The reason was that in Italy last year, I not only caused a traffic violation banning entry, but also because a car that makes a wild driving not turning a turn signal on a highway forcibly interrupted causing a collision accident . I am in the milestone that my age has reached the 70th year of my life, and this was the opportunity I decided to "I will not drive in any foreign country from now."
---
Pike place market where fishmongers gather
Instead of driving a rent-a-car in a foreign country, I asked for two things, local guide and local tour. By dividing the work relationship of the fish into the local guide and sightseeing the local tour, I decided to take the form of half of the tour half of the work.
The local guide is not a special expense guide with expenses, but a system in which the Japanese who lives in the United States and Canada using the traveloco site guides the my desired destinations all day or half a day in a form of part time job.
This time for the first time I used this traveling system, but what I can say as a result was that I felt that "it is much more efficient and reasonable than driving my own rental car." The cost is 15,000 yen per day for Seattle and 12,000 yen per day for Vancouver, which adds 10% system usage fee to it. However, I felt that it is clever to take advantage of this mechanism if I think about such a thing when I think about rent-a-car fee, gasoline fee, driving time to go into navigation time and wasted around the machine's navigation. Trabeco costs are various, and surprisingly there is a difference of five times or more by a person, and this time the author negotiated with several travelers in advance, but in the end it seems that luck was good meeting over a wonderful person.
If you do not participate in the planning tour of a travel agency, but rather emphasize traveling abroad with your interest as they go, the author should consider the traveloco system as one option I would like to recommend it.
Well, the next day I entered the United States on Sunday 21st I asked to traveloco living in Seattle. The sixties female traveloco originally requested was inconvenient and the one introduced in place of her was a Japanese fluent 75 year old American named Dewy living with her. Mr. Dewey was a very funny career and had retired as an architect, and now he seemed to be a living life-oriented person working at his own pace as a technician in the Japanese garden. Mr. Dewey sometimes seems to guide in the Japanese garden, but it seems that he was the first non - professional guide. But my hope is not seeking expertise in distribution and fishery but asking for the local guidance. So, for example, it was really interesting just to hear a variety of experiences that Dewey lived back and forth between America and Japan in the car and restaurant.
The first thing I asked was Pike Place Market, the kitchen of Seattle citizens. Although it was a citizen's kitchen, it was also a famous sightseeing spot, fresh foods were enriched with various miscellaneous goods and everyday items, and there were four fishmongers as well.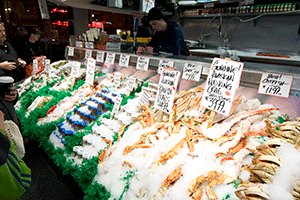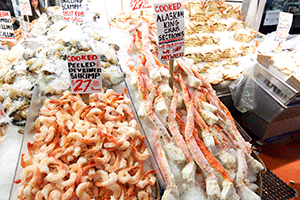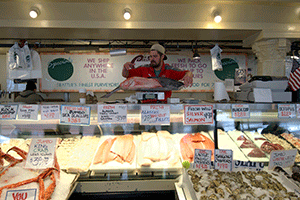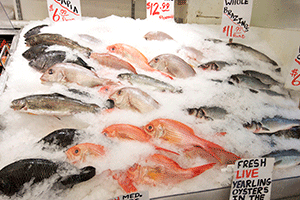 Among them, the following image is a fish store operated by a Japanese company, which is famous for "a fish flying in the sky", it is a famous event of the Pike Market Market, many fishmongers Tourists are gathering to see this performance.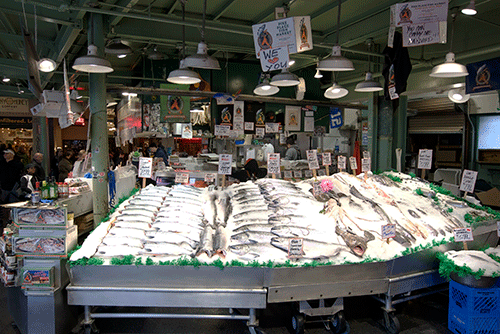 This place is a convenient place to know about the fish being eaten in Seattle. However, since it has been considerably touristic, I felt somewhat missing from my interest and hoped to round up early and head for another place.
---
Organic Super P.C.C
The next thing I went to was P.C.C, the company I heard for the first time, and it was a store operated by co-op. Its official name is P.C.C (PUGET CONSUMER'S CO - OP), which seems to have nine stores in the city of Seattle. According to Mr. Dewey's story "It's a much smaller company than the Whole Foods, but the quality is cheaper and better than the Whole Foods." Dewey himself seems to be using it often, and he was talking closely with the clerk.
The fish shop was only in the image below, it was a feeling that I did not put much effort into selling fish.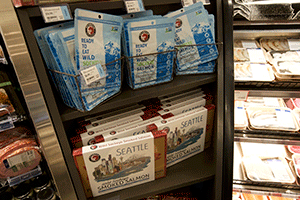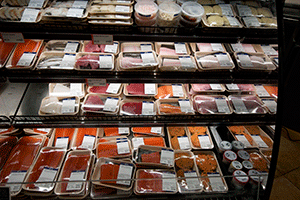 Conversely surprised is the sales floor of nuts, seeds, grains in the underlying image.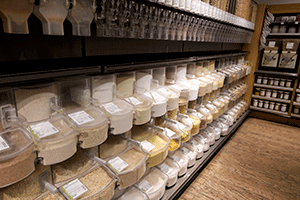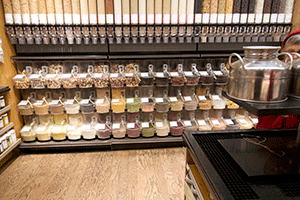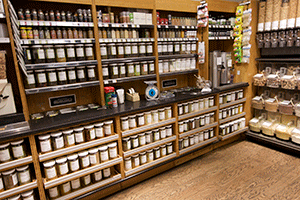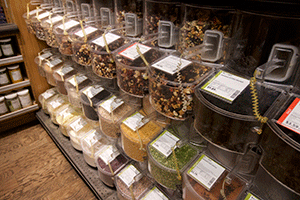 These assortments are one's true value of organic supermarket, surprised by its fulfillment as compared with the size of the store and the selection of fresh items.
And an interesting sight was a cash register. It is not a fashionable self-record this time, but it puts all the items in a bag. The interesting thing is that the person in charge of the cashier faces the customer, the large liquid crystal screen is facing the customer, the content of the calculation is displayed large.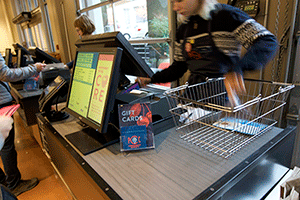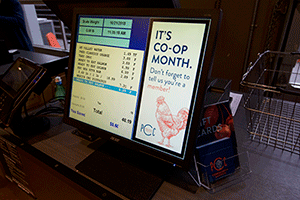 I could not see such a cash register system even at other supermarkets I visited this time, and I felt like seeing the unique idea of this company.
---
Water gate with a fine fish way
Next, the place where Mr. Dewey took us was not a supermarket but a "water gate". It was FISH LADDER BOTANICAL GARDEN, that it was also a park as a place for citizen's relaxation.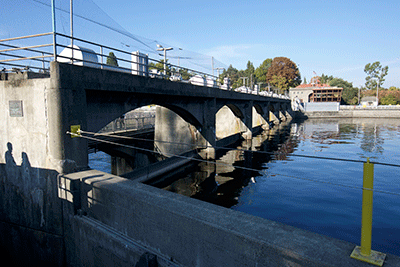 I do not know if the expression of a water gate is correct, but it is something like a "Suez Canal". In the canal connecting the sea and the lake there is a difference in the height of the water, and there are two such as a small lock and a large lock for the boat to overcome the difference in the height of the water beside it.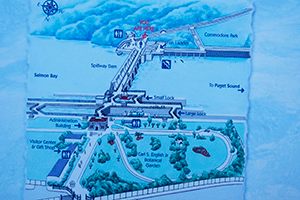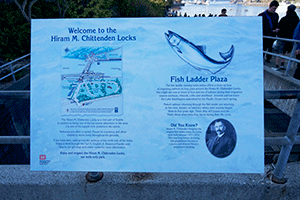 The official name of the facility seems to be Hiram M. Chittenden Locks, and it goes through a ship like the image below.
1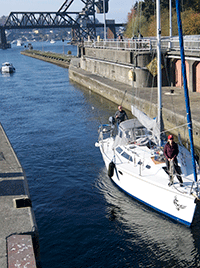 2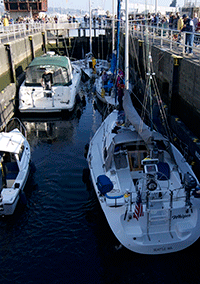 3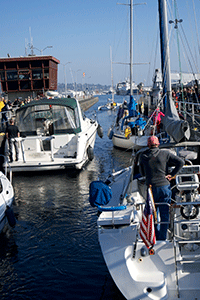 1, A ship came into the water gate. The height of the water surface is the same to the rear and the front water gate.
2, It seems that ships are gathering one after another while the front gate is blocked. I think that you can see the difference in the height of the water on the other side of the front water gate and the front. When the ship is full, the gate behind is closed, and water comes in from the front.
3, this time the gate behind is closed, the front gate opens, the front sea level and the water surface become the same height and the boat goes out.
The ship can go through the water gate in this way, but the salmon heading to the lake going back to the river is not able to overcome this artificial water gate like this huge dam with its own power.
Therefore, Fish Radder was thought to not hinder the movement of salmon. If translated into Japanese that is easy to understand, it is "fish road". This is made in the form as follows.
1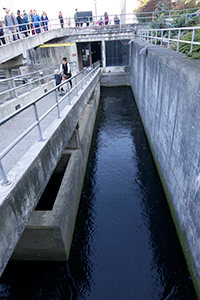 2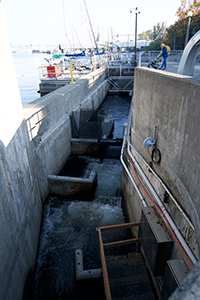 3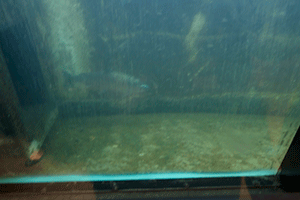 1 is a state of a fish way where salmon swims normally. 2 is a fish road like a waterfall with a level difference next to it, salmon swims up here. Three images are somewhat difficult to see, but salmon that came up the river later than the peak passed lonesome swimming fish road.
I always had a simple question that why there are so many natural salmon in the United States and Canada but I thought that I could solve a single question by looking at this facility. As well as the United States, Canada is not destroying nature with human selfish ideas, but as a country firmly established the idea of considering animals including natural fish to not walk the way of human beings disappear by artificial obstacles It seems to be done. So it seems that natural salmon is still not decreasing now. I think that the abundant environment of natural salmon is kept protected by various factors, but I thought that I believe that such a water gate fish road is also one aspect.
If I was traveling with a rental car like before, it seems that I did not think about visiting such a facility, and thanks to Duey, it was such experience. I would like to express my sincere gratitude to Mr. Dewey for having such an interesting study.
---
What I headed to was "Amazon go", which I asked him to put in the journey by all means as the author's hope. What I wanted to experience early, what kind of thing is the topic of the world "unmanned convenience store" was the one that ranked as the top of the purpose of this trip. The following image is the appearance of Amazon headquarters and Amazon go before 5 o'clock in the evening.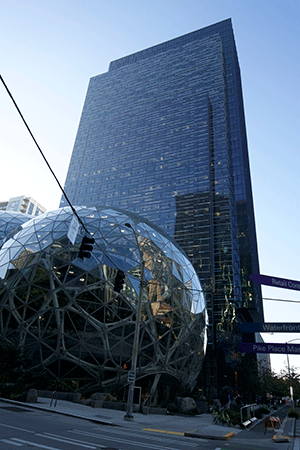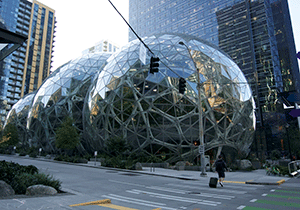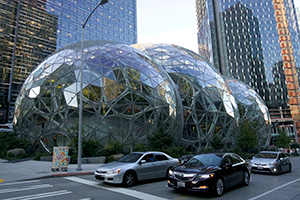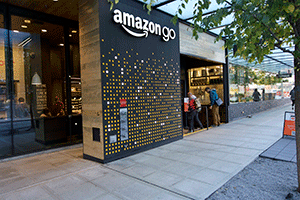 I entered the shop quickly and tried shopping. The assortment was just a convenience store, and it was a small store with only the minimum possible selection. As I did not have any items of particular interest, I bought two breakfast breads for the next morning and a plate of chocolate named Amazon go for a few visits, but my wife was buying other than that. And my wife told me to put it in one of my baskets and put items in my basket, which caused a small problem.
I learned later that Amazon go rules do not hand over items to others in the store. My wife gave it to me without knowing it. I got out of the store and mailed my wife's iPhone shopping for $ 10.69 at 5items from Amazon go. But I have not heard from Amazon go and there is still no shopping notification email coming. Moreover, the total quantity and the amount of money that I brought out and shopped are more than that, I am wondering what is going on.
Even though I bought all the items by myself as I intended to pay the price of all the products, that shopping notification contact has not arrived, and it seems that it is not malicious at all to commit a crime. I think that I had a very valuable experience in a sense, so I will not do something like reporting it to Amazon on my own, and I will leave it as it is for a while. Is not it funny how it will develop in the future? The unpaid amount is not a big deal and I think that this precious experience will be an unprecedented experience as a person related to retailing as to how such valuable circumstances will settle.
On the other hand, I thought that what is a circular noble building next to the headquarters building, I went there. That was an interesting space.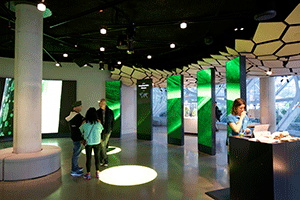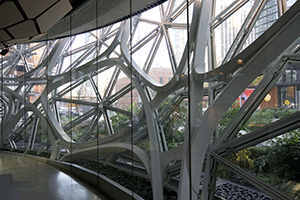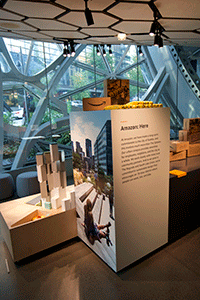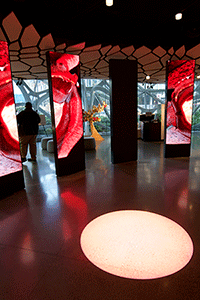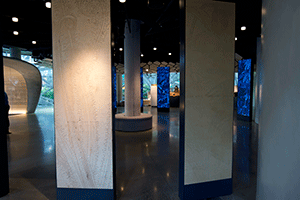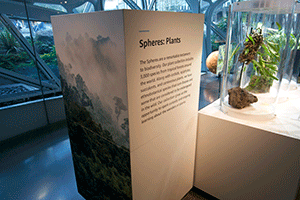 This is a building named Amazon Spheres, which was a photo OK so I took it freely. It seems there is a resting place for employees as the purpose of making this place, there are also ideas that they want to plant natural plants, create a relaxed space, and make free thinking. I am impressed that companies that are currently the most momentum in the world are quite different things to do.
The surroundings of this facility are that old buildings are rapidly broken and transformed into a modern and huge building and that Amazon-related companies are going to enter all of them, there is a so-called huge "Amazon village It is about to emerge.
Although the city of Seattle is a compact city with a population of less than 700,000 people, including the amazing momentum company like Amazon, the headquarters of Microsoft and affiliated companies as well as the Starbucks headquarters , And there are many nominated world companies such as Boeing's head office and factory. For this reason it is said that the rise in land and buildings is the most severe in the United States now.
According to the architect Dewey's story, even if you order the building, application permission will not come soon, even if you have permission, the construction will be postponed for a long time, the best in the whole country It is an unusual momentum of the city.
---
Seattle Seafood
The dinner we ate in such a momentous Seattle was a seafood restaurant, but after all it was impressive that the cheerful city is expensive as well.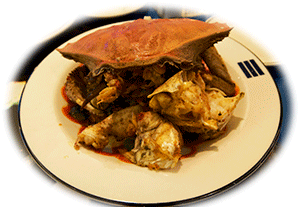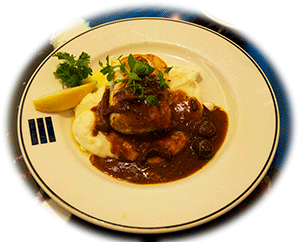 | Angry 2pound whole dungeness crab $56 | Pan seared alaskan halibat $38 |
| --- | --- |
The dish of Dungeness Crab is so spicy that the mouth is spoiled and it is such a spice that is entwined to the whole, so when we eat it is a feeling that we fight silently with Dungeness Crab while dirtying the fingers of the hand with red spice . As a result, although the elegant taste of Dungeness Crab was almost erased, I evaluated that the total taste was pretty good.
On the other hand, Hariibat had finished a large size white body softly. This was also placed on top of the mashed potatoes, and the sauce that was added was a deep-frosty demi-glace souce wind, which also did not have a bad taste. But neither of us had too much taste on my wife's tongue and I could not finish eating all the two dishes.
The next day I took a sightseeing tour of the Boeing factory and aviation museum, I went to Vancouver in the morning of the day after next, but there are many things to mention about Vancouver so let's make it a 2 page version for the first time in a while. Please also peek at the next page.
---
(By the way, this is not related to the main text, but the article on the first day from the start to the end was written in JAL flight from Vancouver to Narita in about 10 hours from 26th (Fri) to 27th (Saturday). There was a purpose not to get jet lag after returning home, I stayed alone for a while in a dark plane where illumination was turned off without totally sleeping. It seems that Ms Tanaka of CA was interested in such a thing, she seems to have searched for me using the satellite internet in the cabin. And as I approached the time when the landing to Narita approached, "I saw Mr Higuchi's blog a bit, it was easy to read and very funny," she talked to me.
I said. "Well, you can do such a thing on this cabin, you can do such a thing. That's scary ... But it is not a blog but a homepage", then,she did it correct the previous word with a nice smile. When I talked her that I'm planning to upload an article I am writing on my PC now on my website on 1 November. Then she said, "I see it 1 November, I'm looking forward to it ..." In this way. I had a very enjoyable conversation with JAL's CA Tanaka on board the flight)
---
Continue to the next page
---
An opinion and the communication are to iinfo@fish food times

Date of updating 1 Nov. 2018